Just when you may have thought that social media marketing has settled down to the "big 4" (Facebook, LinkedIn, Twitter and YouTube), Pinterest breaks new ground. It's actually fun to use, highly visual and growing like a weed.
I'll have more to say about why I think Pinterest is a real trend setter in a future post. Meanwhile, here is a choice selection of way luscious links that will help you get started or understand more, no matter whether you've already pinned your first board or not. These free resources should be useful in improving your understanding of how to create effective social media marketing via Pinterest. Or, perhaps you might prefer to start by checking out my Pinterest boards by way of example? 😉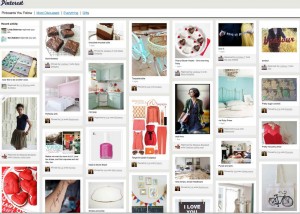 Pinterest:  Everything You Wanted to Know About 2012's Hottest Startup
InfoGraphic and impressive data from Mashable.com
The Remarkable Rise of Pinterest:  Chart
Get the picture literally via this chart from Business Insider.  See how many people are already spending more time on Pinterest than on other big social sites like Twitter and LinkedIn!
The Big Picture, Big Changes.  How Pinterest is Leading the Way for "The Next Social Networks"
An intelligent perspective from "Trust Agent" Chris Brogran
How Pinterest is Becoming the Next Big Thing in Social Media for Business
Jason Falls makes the case for Pinterest for business on Entrepreneur.com
Pinterest: 13 Tips and Tricks for Cutting Edge Users
Mashable's how to guide will help you maximize you Pinterest activities.
56 Ways to Market Your Business on Pinterest
A cool & comprehensive blog post by Beth Hayden
30 Resources, Tips and Tricks for Marketing Your Business on Pinterest
A very useful collection from Jeff Bullas that also includes many more "luscious links"
The Ten Most Followed Brands on Pinterest
Mashable's selection shows the woman-leaning bias of Pinterest, except I'm a Whole Foods and Mashable kinda guy and those companies are way into Pinterest too 😉
Dozens Of Major Companies Failed To Secure Their Brand Names On Pinterest
The name game is under way and lots of businesses are not paying attention… at their own peril. Are you and yours all set with the Pinterest name you love and deserve? 😉
Pinterest Data Analysis: An Inside Look
Research firm RJMetrics delivers some fascinating insights about Pinterest's rapid growth as well as its "growing pains"
A Pinterest Board of Cool Pinterest Stuff
And, what selection of Pinterest links would be complete without a link to a Pinterest Board packed with cool Pinterest stuff? This is also a great example of how a Pinterest Board can be useful, interesting and creative.
Enjoy and please comment. Do you like this kind of link aggregation? Did you find this post useful? Thanks!
https://www.combridges.com/wp-content/uploads/2017/06/ComBridges-Logo-300x60-300x60.jpg
0
0
JonLeland
https://www.combridges.com/wp-content/uploads/2017/06/ComBridges-Logo-300x60-300x60.jpg
JonLeland
2012-02-27 12:37:55
2012-02-27 12:37:55
Luscious Links to Unlock Pinterest: Free Resources Show How to Pin Your Marketing