I want to help you get a handle on Internet marketing. I wrote a book. I've designed a new online course. Now, I'm offering a free introductory webinar in partnership with another thought leader.
As part of the build up to my new online course, "Start with a Solid Foundation: Building on the 8 Key Concepts of Sustainable Online Marketing" I am joining with another small business marketing leader, author and consultant, Christy Strauch (http://www.smallbusinesswarrior.com ) in co-presenting a free webinar introduction called "Demystifying Internet Marketing."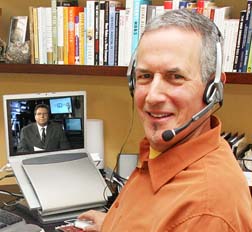 This is happening in a web browser near you, or via dial-in phone, tomorrow, Tuesday, October 30th, promptly at 11:00AM PT. Click here to register now for this free Internet marketing webinar. And, yes, if you register we will also send you the recording, presuming that all the tech gods co-operate. 😉
We hope you will join us!
Or click here to read a press release that explains more and will also tell you how to get a free Kindle copy of my book!
https://www.combridges.com/wp-content/uploads/2017/06/ComBridges-Logo-300x60-300x60.jpg
0
0
JonLeland
https://www.combridges.com/wp-content/uploads/2017/06/ComBridges-Logo-300x60-300x60.jpg
JonLeland
2012-10-29 19:37:49
2012-10-29 19:37:49
"Demystifying Internet Marketing" – Free Webinar, This Tuesday, 10/30