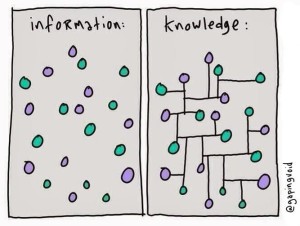 Jay Baer likes to remind us that:
Content is fire, social media is gasoline.
But I think there's something that comes first: The spark that ignites that fire is authenticity, or more specifically, authentic value. After all, not all content burns or even glows. It's only content that has some real value that matters, has meaning, and thus, has the "fire" or attractiveness to engage others (whether they are prospective clients or customers, friends or collaborators, political constituencies, or whatever.)
Connecting with My Own Authentic Value
Finding my own authentic voice (the fire that lights me up and thus ignites my best content) is much easier to say that to do. Thanks in part to some coaching from Andrea J. Lee and because I'm committed to walking my talk in this regard, I decided to try to find out more about what makes me different and to connect more directly with what it is that only I can do.
Because I am fortunate enough to have had my own business for many years, I decided to ask someone who has worked with me as a client across decades and during his employment at four different companies. I interviewed Randy Haldeman who is currently CEO / President of Code-N. Yes, as I expected, Randy respects and appreciates my expertise with leading edge marketing communications and gets value from the way I stay on top of all the tech stuff:
I know that I can count on you 100% to know the latest and greatest marketing communications technologies, especially in the online and video worlds. You know what's over-hyped and what's for real… Part of your value is figuring out what doesn't work by putting things in perspective. Knowing what doesn't work is just as important as figuring out what does work. Because you do that, we don't have to. We trust you to lead us in that way.
Surprised by the Human Dimension
But what surprised me was the way Randy took the "connect the dots" metaphor in a more human direction:
You have the ability to connect the dots, and that goes beyond the technological components. You can hear disparate points of view and distill them down to their essence so that they can be connected. This enables you to lead, but not via your ego or thinking that you always have the right answer. Rather, you have the skills to incorporate input and feedback from disparate members of our team. You listen well and make people feel they are included. That's been invaluable for our work together.
Now, that was a real eye-opener for me. Yes, I know that I do that; but, to be honest, that aspect of my value has been under appreciated… by me!
In this way, I think that there is a need for all of us—whether we are individuals or organizations—to take time to contemplate (and wherever possible do research) in order to connect more deeply with the authentic value of what we are offering. Self-appreciation is important and obviously also contributes to our ability to communicate our value effectively to others.
Are you clear about the value that you bring to others? If not, I'm sure you would be well served to spend some time getting feedback from some of those to whom you intend to bring this value.
Beyond "Just More Stuff"
As the image above so brilliantly illustrates, information is empty without the context that knowledge provides. Otherwise, we are stuck with isolated bits of information. For this reason, it's no wonder that the beauty and wonderfulness of our social media driven Web is also frequently under appreciated. (Thanks to Hugh McLeod a.k.a. @gapingvoid for the graphic.)
For me, a new chapter is opening and I am going beyond the solid foundation of my primer, "Internet Marketing: 8 Key Concepts Every Business MUST Know." Yes, all marketers do need to understand how social media, SEO, online video and PPC work and fit together (and I think the book does a good job of illuminating all that), but without the human "fire" of authenticity and authentic value, it's all just more stuff.
Bottom Line: A Meaningful Future is Calling
Bottom line, there's more to business than money and profit (although those are good things within reason), and there's also more to marketing than "lead generation" (although we all want that too.) Fundamentally, I believe that business (and life) is about the quality of our relationships. My goal is to build a tribe of clients with whom I have long term, sustainable relationships.
In order to do that, my marketing needs to create authentic connections and meaningful collaborations that are based on leading with value, rather than giving something in order to get something. I'm pleased to be learning and continuing to explore what this means for me and continuing to learn from those who appreciate what I have to offer.
And the best part is that I know I'm going to have fun along the way, especially with the new online virtual community that I will be leading starting in early September. I look forward to sharing more about my own learning process and to supporting the discovery process of others in my new group mentoring program, The New Media New Marketing Playground. If you would like to join in this fun and explore the human dimensions of the new media, new marketing landscape and be supported to market more from a place of ease, fun and authenticity, please click here to learn more about The Playground. I hope to see you there.
https://www.combridges.com/wp-content/uploads/2014/08/Jay-Baer-quote.fire_.gasoline.png
471
677
JonLeland
https://www.combridges.com/wp-content/uploads/2017/06/ComBridges-Logo-300x60-300x60.jpg
JonLeland
2014-08-07 12:01:25
2014-08-07 12:01:25
How Authentic Value Is Bringing New Fire to My Marketing