Time is Money and So Is the Right Technology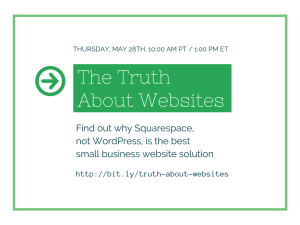 When it's time for a new website or a redesign, suddenly there are some serious differences to consider when choosing the platform. Specifically, WordPress is no longer a no brainer.
I want what's best for you, and so I research and test technologies so you don't have to. Websites are a core component of my business, so I especially stay on top of website design platforms in order to offer you the best options.
"I know that I can count on you 100% to know the latest and greatest marketing communications technologies… You know what's over-hyped and what's for real… We trust you to lead us in that way."
– Randy Haldeman, CEO, Code-N
After a very successful run with WordPress, now—for smaller businesses where simplification can save tons of money, time, and aggravation—I am now recommending Squarespace over WordPress.
I want you to understand why. So, I'm doing Free Webinar on the advantages of Squarespace over WordPress. It's coming up this Thursday, May 28th at 10am PT. Please click here to register or continue reading. This blog post and the a personal video invitation below—as well as the webinar—include more details.

The savings for small businesses by using Squarespace rather than WordPress are not only direct costs, but also significant reductions in wasted time and technical hassles. The benefits of Squarespace include beautiful templates that are always responsive, a smaller learning curve, and a more efficient work flow, especially if you don't want to always be dependent on a web designer or developer. Here's your video invitation:

The "Done-With-You" Revolution
Plain and simple, Squarespace has helped me to help more people in a way that's more fun, more efficient and more collaborative. While anyone can use Squarespace in Do-It-Yourself mode—and there's nothing wrong with that—it has also enabled me to offer 1-to-1 Get-It-Done Websites that are literally one-half the cost of our WordPress customizations (which we still do for larger organizations with more complex needs).
"I'm very pleased with the 1-to-1 Get-It-Done Website session that I did with Jon Leland at ComBridges. In less than the time it takes to play a round of golf, we had my new website designed and published… Prior to this session, I had wasted many hours over a couple of months trying to update my website. I finally reached out to Jon and in just one afternoon, he saved me a ton of time, money and effort."
— Jim Draper, President, Draper Creative Group
We call this kind of collaboration a Done-With-You service vs the more traditional Done-For-You type of service which takes considerably more time—for both the client and the vendor—as well as more money. Please click here if you want to learn more about how this service works.
How Squarespace is Different & Why This Matters
Squarespace brings together a lot of features that I've been looking for in a website design platform, all in one compact, hosted package that provides everything most small businesses need with almost none of the hassle. Some of the features and benefits of Squarespace that I'll be explaining and showing in more detail during the Free Webinar include:
Elegant, beautiful, modern templates that are on a par with the best of WordPress.
All templates in the latest version of Squarespace are mobile-friendly and the responsiveness doesn't break when you customize pages.
Because it's a closed system, maintenance could not be simpler. Upgrades are built in. No plug-ins. No getting hacked. No unexpected expenses.
The system is user-friendly so that almost anyone can learn quickly to make their own website updates.
Squarespace provides 24×7 support via chat and fast-turnaround email.
There are an impressive array of built-in, highly-customizable features including:

Response forms
Video and audio embeds
Animated picture galleries
Editable social media icons
And more
And all of this is provided without having to research and shop for plug-ins and without needing to worry about possible plug-in conflicts that can be an issue with WordPress when you install and/or upgrade.
If you want to understand these benefits better, I hope you will click here to register for free for the webinar where I will explain all of this and show you as much as possible via on-screen video demos—all in less than a half hour.

"Who knew that creating a new website could be so fast, easy, affordable and fun? Jon is a master of all things internet, and he brings a warm and enthusiastic spirit of partnership and creativity. If you are looking for help designing a quick new website, look no further."
— Dara Ackerman, singer-songwriter
Thanks for reading! If you'd like to follow up with me in ways other than the webinar, here are some options:
https://www.combridges.com/wp-content/uploads/2015/05/webinar-video-grab-FB-lesstext.jpeg
422
752
JonLeland
https://www.combridges.com/wp-content/uploads/2017/06/ComBridges-Logo-300x60-300x60.jpg
JonLeland
2015-05-24 17:38:04
2021-12-18 23:51:51
How Small Businesses Can Save $1,000's on Websites Using Squarespace vs WordPress