There's only one thing happier than a happy client, and that's a happy client who is making more money as a result of their new website. And, in this case, I'm also happy because it's one of my 1-to-1 Get-It-Done Squarespace Websites.
Real Results
Larry Stroup is exactly the kind of small business who has benefited of my ability to get more done, well, and efficiently using Squarespace
and the 
1-to-1 Get-It-Done Website
collaborative process. Larry is a sole proprietor wallpaper hanger and business owner in Maryland. Frankly, his old website was dated, ugly and ineffective. Now, he reports:
"I've been so busy from the new website's traffic, that I've put off updating the photos on the site. I think the "Contact" page has really made a big difference in the amount of clients I have been getting… probably 4 or 5 times what the previous site was generating. I can't say thanks enough!"
Another Day Another Website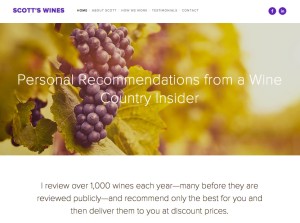 Last Thursday, I had the delightful experience of taking another client Squarespace website live,
ScottsWines.com
. This one was for Scott Walker, a "personal virtual sommelier" in neighboring Sonoma County (FYI, as I did with Larry, Scott and I also worked together via phone and screen sharing.)
One of the fun, ease-enhancing things in this process was discovering Squarespace's GoDaddy integration.
For all of my previous Squarespace websites, I had to edit the domain's DNS records with the client's domain registrar (a minor technical hurdle). This time however, it took just a couple of clicks! I love that kind of ease. 😉 
Click here
 to read the Squarespace Help file if you want more details on how this works.
Another Week Another Webinar
You may or may not know that I did a half-hour video webinar last week on the advantages of Squarespace over WordPress for small business websites. In many cases, these are advantages that can save small businesses $1,000's. For your convenience and "viewing pleasure" I'm posting the SlideShare for you below; or, if you've got a few minutes, you can view the webinar video replay if you click here (registration required). Enjoy!
https://www.combridges.com/wp-content/uploads/2015/06/Save-Time-Money-Blog-Post-Header.png
315
560
JonLeland
https://www.combridges.com/wp-content/uploads/2017/06/ComBridges-Logo-300x60-300x60.jpg
JonLeland
2015-06-08 15:23:38
2021-12-18 23:51:51
Squarespace Websites Cookin' New Client Revenue + Free Webinar Slides & Video Replay Link