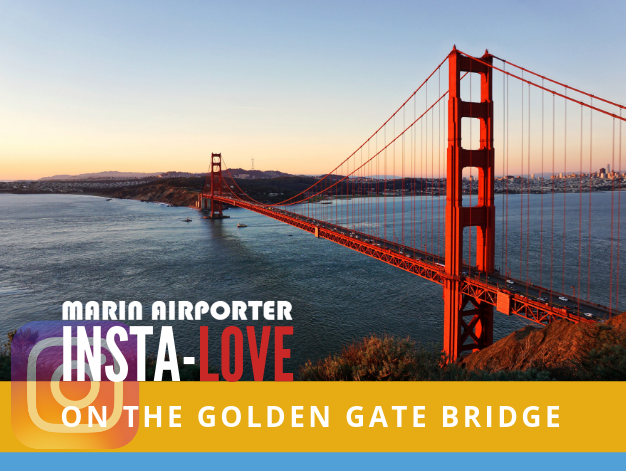 This post illuminates how a creative digital marketing strategy can find meaningful opportunities to shine a positive light on a client's value.
A recent, fun example of how this kind of content marketing works is the way we brightened the Instagram feed of our client, Marin Airporter. In this case, we used passenger produced photos (also known as "user generated content" or UGC) to leverage the beauty of the Golden Gate Bridge.
Beyond our recent website redesign for Marin Airporter (described here), we now help this client stay connected with its passengers (and potential passengers) with engaging social media content.
How the Golden Gate Bridge Became a Social Media Asset
It's not unusual for small companies—many of whom struggle to engage successfully through social media marketing—to still be playing catch up with regard to leading edge social platforms like Instagram. Nonetheless, every company's customers are already on these networks, and often they are communicating in ways with which any business would want to interact. Marin Airporter offered us this kind of "golden opportunity" because, prior to working with us, they had no Instagram presence whatsoever.
Once ComBridges got involved, we noticed that many passengers on Instagram were sharing an exciting aspect of riding on Marin Airporter, a memorable trip across the iconic, world famous piece of art deco architecture known as the Golden Gate Bridge! They were even sharing videos in the rain, at night, and in the dark.
The passengers themselves made it clear that the Bridge crossing is an important part of the Marin Airporter experience. So, we decided to celebrate these customer posts by compiling some of the best videos and pictures of their buses' Golden Gate Bridge crossings into a blog post on the Marin Airporter website. As you can see, it showed just how special the Marin Airporter route is. Check out the full blog post here.
Content Marketing Meets Customer Listening
Through this example, you can see how well-conceived content marketing leverages customer awareness to create content that shines a spotlight on our client's value.
In this way, ComBridges opened another door for our client to connect and communicate. With our support, Marin Airporter now reaches and interacts with its passengers in a 21st Century way. Because social media is a two-way medium, these messages also provide critical feedback, questions, or moments of gratitude from happy customers. And, thus, they are a form of customer service that needs attention.
In today's world, this kind of creativity is a critical dimension of successful digital marketing. Done correctly, it is also an important branch of customer service and customer listening.
If you are ready to shine online and make better connections with your customers, please let us know.
---
https://www.combridges.com/wp-content/uploads/2019/05/6.png
300
640
JonLeland
https://www.combridges.com/wp-content/uploads/2017/06/ComBridges-Logo-300x60-300x60.jpg
JonLeland
2019-05-07 18:47:43
2019-05-07 21:23:17
Insta-LOVE: How We Leverage Instagram to Make Clients Shine