Is there such a thing as a "North Star" guidance system for your digital marketing? You bet there is.
And, it's not a tip, trick or "recipe for success." It's WAY more valuable than that.
For me, connecting with what I call "the real Internet" is "the one in front of all the zeros." It's that important because it gives everything else meaning.
Please watch and let me know if you agree. OK?
About Video Mojo
Video Mojo is a weekly video blog and podcast hosted by award-winning media innovator, Jon Leland. It combines timeless marketing principles with a playful exploration on the "bleeding edge" of digital video & social media.
Resource Links from this episode:
I'd love to hear what works for you and if you find this program useful. If you've got questions, feedback or suggestions, please comment below, or let's connect (and leave us a review on Apple Podcasts or wherever):
VIDEO TRANSCRIPT:
Digital Marketing Guidance: Better Choices Make a Better Business – This Changes Everything!
Hi and welcome to Video Mojo!
My name is Jon Leland and this is a video blog and podcast that combines timeless marketing principles with the bleeding edge of marketing and video communications.
Today I am talking about something that can change everything! It's the choices that we make in our business and really some of the fundamental choices that are like the north star that guides everything. You know, there are these "whys" and these passions, and when you have the discipline to take the time to listen for those they do make better business choices. It's not just about money but about quality of life, quality of relationships and doing marketing and communications that are meaningful.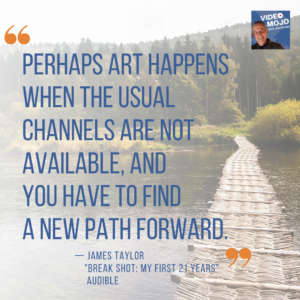 I started listening on Audible to the new James Taylor fragment of autobiography. It's his first 21 years he calls it "Break Shot". He opens that audio program with this quote.
"Perhaps art happens when the usual channels
are not available and you have to find a new path forward.
Sometimes in describing that new pathway,
we open a door that is useful to other people too."
That's kind of why I'm here. Because I'm opening doors for myself and exploring:
What do I want to say in this video blog?
How can I contribute?
Who are my tribe?
Where's my community?
What I've remembered is that the internet is this multi-faceted thing. We all know that there are spammers and trolls out there and there are get rich quick marketing people. I do highly recommend that you avoid these, in particular, get rich quick ideas. "Here's the formula, here's the recipe, if you just follow this three-step process you're guaranteed to make six figures." I don't think that's how it works and I also don't think that's a north star.
I've really learned over the years that it's not about the money, I like earning a living there's nothing wrong with money, but I've found that there is a better internet and the better internet is based on real people who are doing authentic things.
I'm reminded of this story when I was on a video shoot in India. We were in an airport in a small city in India and it was kind of this relatively modern concrete impersonal dry cold kind of building, like airports tend to be. We were waiting for a delayed plane and one of the locals invited me to go for chai tea at a local chai walla – a local chai stand. We walked out of the airport around a corner and before we knew it we were with the local people in a local chai shop. It was warm and friendly and colorful like most of India, very much not like the airport. I said to myself, "Oh, this is the real India. Now we're in the real India".
I had a similar experience recently. I had a conversation with a marketer, the head of Marketing Showrunners, Jay Acunzo. And this conversation lit up my heart. He's an authentic guy who I really think is about making a difference. Someone who is saying some very direct things about how we build real community. In this conversation, I went "Oh, this is the real internet! I remember there are people out here like that.".
So that's my invitation to you this week. Find your north star. Find real people, make real connections, build authentic relationships. There is a real internet out here and if you do that, it changes everything. You'll make better choices that will give you a better life, better communities, and a more satisfying business.
So let me know what you think I really appreciate your kind attention and I do look forward to your feedback comments and suggestions.
Thanks again for watching. See you next week!
https://www.combridges.com/wp-content/uploads/2020/02/Better-Choices-640-x-300_1.png
300
640
JonLeland
https://www.combridges.com/wp-content/uploads/2017/06/ComBridges-Logo-300x60-300x60.jpg
JonLeland
2020-02-27 16:32:13
2020-03-12 20:35:17
Digital Marketing Guidance: Better Choices Make a Better Business – This Changes Everything!