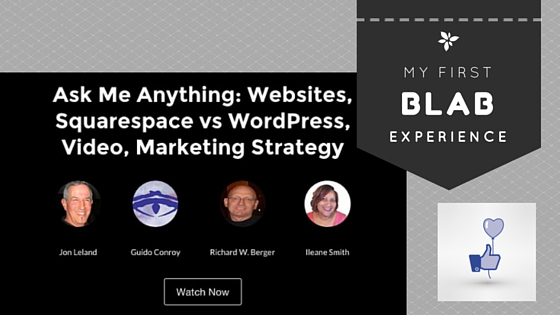 Blab: The New Social Video Streaming Platform ROCKS!
This is a quickie post to let you know about a surprisingly good new video streaming conversation platform called Blab. I just did my first Blab session and had 39 viewers from around the world. The recorded segment is embedded below. I was joined on-screen by video participants from Brazil, Argentina, and Philadelphia. 😉
I think this application is more user-friendly for multi-user video than anything I've seen (Spreecast, Google Hangouts, Skype, etc.) It is also way better than Periscope or Meerkat because it's two-way. Those video streaming tools are really only one-way.
Blab now has a mobile app as well as desktop. And, now that I think about it, it's not only two-way, it's up to four-way, four simultaneous video participants. And that's nicely complemented by a fully functional chat stream where you can paste URL's and animated GIF's as well as very nice Twitter integration.
One of the people who jumped in, Richard Berger, had this to say about our conversation:
[testimonial author="Richard Berger, English Teacher"]"In just those few minutes my awareness of new social media/video streaming/website development was exploded, and now you got me "back at the drawing board", thinking of applications for my teaching work. Thanks again!"[/testimonial]
Here's my first session which was a spontaneous "Ask Me Anything" about websites, social media marketing, video, etc. Pretty dang fun! Please click "Watch Now" button on the image below to watch this Blab session, and feel free to scroll ahead to see the multiple participants. And, please let me know what you think. And stay tuned for a special Blab next week with Twitter Power author, Joel Comm, at 4pm PT on Friday, August 28th. Thanks!
https://www.combridges.com/wp-content/uploads/2015/08/Blab-blog-header.jpg
315
560
JonLeland
https://www.combridges.com/wp-content/uploads/2017/06/ComBridges-Logo-300x60-300x60.jpg
JonLeland
2015-08-21 17:41:37
2015-08-21 17:41:37
Blab: The New Social Video Streaming Platform ROCKS!