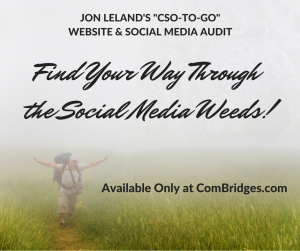 What Is a CSO-to-Go Digital Marketing Audit?
"CSO-to-Go" is a bite-sized, affordable way to have an enthusiastic, motivating and knowledgeable digital marketing strategist, a Chief Strategy Officer ("CSO"), i.e. Jon Leland, help you sort out our online marketing priorities.
Jon offers the "CSO-to-GO" package as described below for only $495. 
Using a carefully-crafted process, you will receive a strategic online marketing audit of your organization's Web presence, lead capture funnels, email marketing and social media profiles. This process come complete with written recommendations and an audio-visual recording of your personalized recommendation session.
You will receive clear and concise input that will help you identify the most effective strategic next steps. 
Jon's recommendations will help you improve your: 
Website's effectiveness

List-building/lead capture funnel

Social media presence

Email engagement

SEO (search engine optimization)

Online video & multimedia (YouTube, SlideShare, etc.)
[testimonial author="Jim White, co-founder, CandidaSupport.org"]"I was pleasantly surprised and very gratified by our 'CSO-to-Go' marketing strategy session. I was impressed by how well you had studied our website and the depth to which you perceived what we need to do. Talking to you, I could hear in your voice the experience, knowledge and your true concern for our success and the importance of powering that from our authentic value and desire to be of service. You were actually a model of what you were telling us we needed to do. I look forward to having you bring us along with more of your mentorship."[/testimonial]
How Does This Work?
There are two main steps to Jon Leland's "CSO-to-Go" process:
Proprietary Intake Form
First, as a client, you will fill out a proprietary intake form with information about your business, online marketing goals, website, social media presence, YouTube channel, Facebook Pages, email marketing, analytics, SEO keywords, content marketing, and more. (Time estimate to fill out the form is only about 15 minutes.)
Report & Recommendations
Then, after Jon performs a top-level review of your website, your responses via the intake form, your social media profiles and your website's analytics (if applicable), he will:
Prepare his written preliminary recommendations and provide them to you as a slide deck.
Personally lead a 45-minute online consulting session that will include a review of this recommendations document accompanied by screen sharing that will illuminate  his feedback.
Deliver the recording of this session to you including both the visual components (slide deck) and audio, so that you will be able to review and take action on his recommendations.
This package also includes your choice of paperback, PDF or Kindle version of Jon's book "Internet Marketing: 8 Key Concepts Every Business MUST Know."
The questionnaire/intake form provides questions worthy of your consideration on their own and is available for your review, without charge, when you inquire.
If you would like to learn more about Jon Leland and what makes him a good CSO, you may find this 3-minute video to be useful:
If you have any questions whatsoever, please click here and ask them via our Contact Form.
We look forward to hearing from you!