Social media networks are a whole new kind of communication opportunity; but too many people and organizations are either confused, over-whelmed or just "don't get it."
In only four minutes, this episode of Video Mojo describes and illustrates three types of social media posts that have no advertising expense required. Each type of post is used by my company, ComBridges, in order to help our clients and ourselves. By using all three types of posts, we more present on social media; and, we "lead with value" to build authentic, sustainable long-term relationships. Please check it out and let me know what you think:
About Video Mojo
​Video Mojo is a weekly video blog and podcast hosted by award-winning media innovator, Jon Leland. It combines timeless marketing principles with a playful exploration on the "bleeding edge" of digital video & social media.
If you've got questions, feedback or suggestions, please let me know (and leave us a review on Apple Podcasts or wherever ;-):
​
* Instagram:  https://www.instagram.com/joncombridges/
* YouTube Channel: https://www.youtube.com/jonleland​/​
* Vlog Home: https://www.combridges.com/blog​/​
* Podcast Home: https://anchor.fm/video-mojo​/​
* On Apple Podcasts: https://podcasts.apple.com/us/podcast/video-mojo-jon-leland-tips-strategies-for-better-world/id1489867374?uo=4​​
* On Spotify Podcasts: https://open.spotify.com/show/1ORM2qja8iMWM9ykwvhaXk​
* Twitter: https://twitter.com/joncombridges​/​
* Facebook: https://www.facebook.com/combridges.fb/​
* LinkedIn: https://linkedin.com/in/jonleland/​
Thanks!
VIDEO TRANSCRIPT:
3 Types of Ad-Free Social Media Engagement: The Building Blocks of a More Attractive Online Presence
Hi and welcome! My name is Jon Leland and this is Video Mojo.
Video Mojo is both a video blog and a podcast that combines timeless marketing principles with a playful exploration of, what I call, the "bleeding edge" of both digital video and social media.
Today we're going to dig into social media a little bit.
There are 3 types of ad-free social media posts. They're kind of the online building blocks of a vibrant authentic social media presence. They exist within, what I would call, the social media ecosystem. I'm not going to get into social media content marketing campaigns today, which are really kind of fundamental. With whatever we do in social media we want to lead with value. We always want to contribute and make a difference before we ask for a sale. Relationships are built over time through multiple touches so you want to show up in the marketplace as a valuable contributor. What this post is about is the 3 types of social media posts. Once you have done your content marketing and developed your own original and valuable content there are other things that you can do, the building blocks, that will help you stay present and build relationships. I've broken that down into 3 distinct types of social media posts.
Type 1: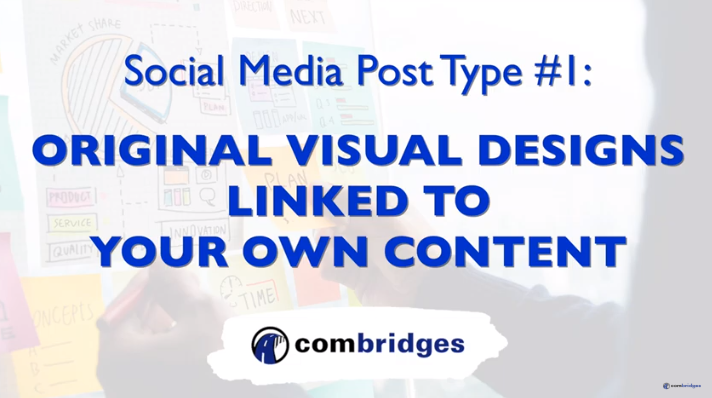 Social media posts type 1 are original visual designs that are linked to your own content. We see those all the time as quote graphics or quote memes. They come out of our own content or creations. We develop original graphics so that they reflect the brand of our client as well as the message of our client and they're our core value messages. They may reflect values literally or they may reflect the communication mission, if you will, of what that clients work is about and what their niche is about.
Type 2: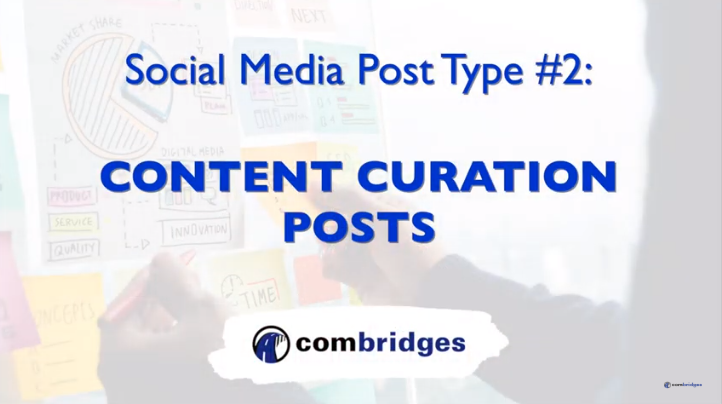 The second type of posts are content curation posts. Next week I think I'm going to get into a tool to help enable content creation. But within the niche, again following the same focus, there are other contributors. There are other people publishing valuable content. So for example, my client The Soul of Money Institute likes gratefulness.org. They are very aligned with their values and so we might repost a blog post from that site.
Type 3:
The third type of social media posts are retweets or repost, usually on Instagram or Twitter, where you are using other posts or other kinds of content that are being posted and are relevant to what you're doing. A good example of this in our business is we represent the Marin Airporter, the local airport bus service. People will post pictures of their experience with Marin Airporter and their joy of travel using #MarinAirporter.
**Bonus**
And then finally, not really a kind of post but, is being involved and monitoring what is going on and responding to comments. I call it conversational engagement. It is a really important piece of the service. If you are going to have a social media presence you certainly want to be responsive and engaged with the people that are liking, retweeting, commenting, and answering questions.
I'm always looking for your feedback, because I would love to do more of the kind of posts that you want to hear. So please let me know. And again, I am very very grateful for your presence.
Thank you so much for watching or listening and I'll see you next week!

https://www.combridges.com/wp-content/uploads/2020/02/649027_VideoMojoThumbnai-Blog-Feautured-Image23_021120.png
300
640
JonLeland
https://www.combridges.com/wp-content/uploads/2017/06/ComBridges-Logo-300x60-300x60.jpg
JonLeland
2020-02-14 17:05:33
2021-12-18 23:55:31
3 Types of Ad-Free Social Media Engagement: The Building Blocks of a More Attractive Online Presence