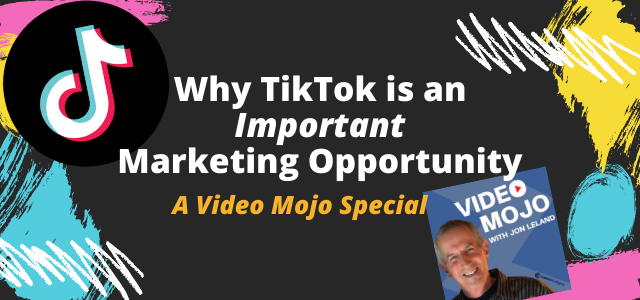 Why TIKTOK is an Important BUSINESS MARKETING Opportunity & A "Fast Track" to More Video Visibility
Looking for the biggest possible "bang" for your social media, video marketing time & money?
One word: TikTok!
It's not just for kids. With the pandemic, more and more businesses are finding that—not only are adults spending time on TikTok—it has distinct advantages for business marketing. Who knew?
In this special edition, "mini-webinar" episode of Video Mojo, video below, I spell out four solid reasons why TikTok is heads and shoulders above other social media marketing platforms. (And the fact that TikTok is "all video, all the time" is not even one of them.)
Despite the fact that many marketers don't take it seriously, in many ways, TikTok represents the future of social media communications and video marketing in particular. And, it's also a strategic fact that you can gain more visibility on TikTok faster, in an organic way, than on any other social media platform. The value for your future in marketing and the visibility opportunity are just TWO of the reasons that TikTok is an important business marketing opportunity.
Don't miss this video: It might be some of the most valuable and actionable social media marketing insights that you will hear this year. Just sayin'. 😉
Video Mojo welcomes your questions and comments in real time during Video Mojo LIVE! which streams on Fridays at 10am PT / 1pm ET on our YouTube channel: ​http://www.youtube.com/jonleland and via our Facebook Page: http://www.facebook.com/combridges.fb/live​.
Please mark your calendar and join us.
IN THIS EPISODE
Time markers/Table of contents:
Tee it up – Video is a Language: 2:44
Collaborative Conversation – Mini-Webinar on TikTok: 5:25
Community Campfire – Your Questions: 14:47
Lucious Links – Throughout, Plus Free Email Course: 19:00
Four Reasons Why TikTok is Important for Business Marketing:
LUSCIOUS LINKS:
I'd love to hear from you with any feedback, suggestions, or reviews. Please join us and/or post a review or comment via any of the links on this page:
Thanks!
Get Yours: Free PDF, 6 Recommended Digital Marketing Apps
This PDF has Jon Leland's recommendations for his six favorite digital marketing apps in one easy-to-read, one-page reference doc. Get yours now.
To watch the video webinar where Jon Leland explains these recommendations, click here.
https://www.combridges.com/wp-content/uploads/2020/12/ComBridges-Blog-3.png
300
640
JonLeland
http://www.combridges.com/wp-content/uploads/2017/06/ComBridges-Logo-300x60-300x60.jpg
JonLeland
2020-12-15 18:45:22
2020-12-15 18:54:35
Why TIKTOK is an Important BUSINESS MARKETING Opportunity & A "Fast Track" to More Video Visibility