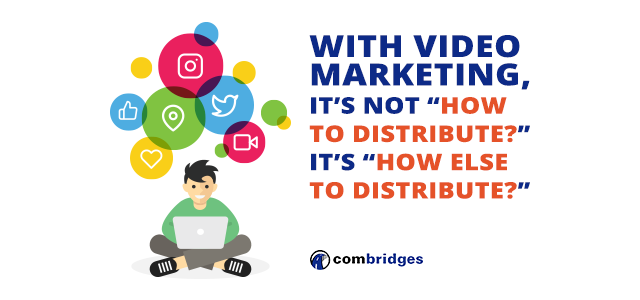 With Video Marketing, It's Not "How to Distribute?" It's "How ELSE to Distribute?"
Greetings and Happy Almost Thanksgiving.
I'm grateful for you. No joke.
This week, I'm excited to share a video about the power of getting your message OUT. We all want more people to see, hear and appreciate what we offer, right?
If you do, please remember that producing your marketing videos (and great content in general) is JUST A START!
A very common mistake is to think that once you've posted whatever you've created on YouTube or Facebook, then you're done. Not true!
Getting creative with distribution—or what Jay Baer calls the "amplification layer"—across multiple social media networks, in a variety of forms helps to leverage the power of what you've produced and gives your content much greater reach and impact.
That's why I'm exploring new kinds of distribution, from "videos as podcasts" to IGTV (Instagram TV). This video explains why:
This video blog post is designed to help you get more out of your marketing videos, blog posts, or other kinds of content. It offers both encouragement and video marketing tips.
​This video blog post is designed to help you get more out of your marketing videos, blog posts, and/or all of the other kinds of content that you create.
It offers both encouragement and video marketing tips. Please let me know what you think.
LINKS
And, if you want to get yourself or your company/organization on an empowering fast-track to creating and distributing social video posts successfully, please check out our Video Launch Pad.
And here's the link to the Jay Baer video blog post on "Content is Fire. Social Media is Gasoline" that's referenced in the video above.
Edited Transcript:
With Video Marketing, It's Not "How to Distribute?" It's "How ELSE to Distribute?"
Hi and welcome. My name is Jon Leland and I'm a Video Explorer who loves exploring all the different ways that video can be used online to create meaningful connections.
"Great Content Creates Audience"
One of my favorite subjects on the topic of today's video is when you're doing video marketing, the question is not "how to distribute" the question is "how else to distribute", and this is near and dear to my heart because it's part of the fun that I have. Part of the reason why I call myself a Video Explorer, is that I'm exploring all the ways that video can create meaningful connections and that involves so many different forms.
It's almost like video has a different language. On Instagram TV, certainly, it does in a new platform like TikTok and obviously YouTube is different, LinkedIn is different. So when we create content, which is the fuel of content marketing that's what happens. Jay Baer, a famous author famously has said that "content is fire, social media is the gasoline." So there's this amplification layer as he calls it. I will link to a video of him talking about this in the show notes of this video blog post.
When you create content, you have to think about how best to leverage it
When you're creating content, you have to amplify it, you have to distribute it. So that's part of what I've been exploring is all the different ways to take these video blog posts and not just put them on YouTube, but for example not just put them on LinkedIn either.
LinkedIn is really important, I do business with other businesses called b2b marketing so LinkedIn is a primary distribution method for me. Do I just post a link to the YouTube video on LinkedIn? No, I upload the video directly to LinkedIn; it's called a native video on LinkedIn, so that it appears within the feed as moving video with the lower-third subtitles. Do I stop there? No. I create LinkedIn articles so that the video also appears within a LinkedIn article and that gets more distribution and more visibility.
So one of the things that's come up recently is we've rolled out a whole system that we help other people also to distribute their videos across multiple platforms, is this relationship between podcasting and video blogs.
You may or may not know that there are a lot of people who actually treat YouTube as a radio and they listen to podcasts on YouTube. We're now moving towards using these video blog posts in order to create a podcast and short form podcasts are a thing now so you'll soon see this video blog as a podcast.
Do It Yourself or Get Help?
That's something that I'm excited about and that's another example of this really important principle, which is not how to distribute but how else to distribute. It's a very common error that businesses make when they start up, they want to create the content, but they don't think about marketing the content. Or they want to create a product, but they don't think about how are they going to market the product, what's the right budget, what are the right avenues, how do you do that. Same thing with content marketing and video marketing.
It's not just about creating the content, it's about distributing it, building that audience, building that community, and ultimately building meaningful relationships and connections. So that's today's video blog post.
If you want to know more about how we help companies and people to do video marketing and to distribute social media and video blog posts, please check out combridges.com or go to go go.combridges.com/video-launch-pad. Our video launch pad offer is specifically where we help people to distribute video across multiple platforms and to get started in the whole game of video marketing.
Thanks again so much for watching. I really appreciate it and look forward to your comments and suggestions. See you next week!
Get Yours: Free PDF, 6 Recommended Digital Marketing Apps
This PDF has Jon Leland's recommendations for his six favorite digital marketing apps in one easy-to-read, one-page reference doc. Get yours now.
To watch the video webinar where Jon Leland explains these recommendations, click here.
https://www.combridges.com/wp-content/uploads/2019/11/589270_VideoThumbnailBlog_B_111819.png
300
640
JonLeland
https://www.combridges.com/wp-content/uploads/2017/06/ComBridges-Logo-300x60-300x60.jpg
JonLeland
2019-11-22 21:35:27
2019-11-22 21:37:11
With Video Marketing, It's Not "How to Distribute?" It's "How ELSE to Distribute?"