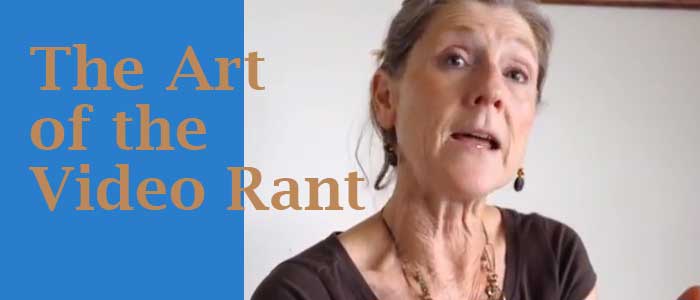 Video Rant Reveals the Surprising ROI of Leading with Values
I'm turning a corner in my business. I've realized that my values are the more important than my (so called) value proposition. And the real eye opener for me was the way that my business coach explained that this approach can actually open up new revenues. Values = $$? Really?
This blog post explains the fortuitous way that I experienced this strategy directly, and how you can use it as an inspiration for your own online marketing communications…
Why Our Values ARE Our Value
The foundation for this story is the way that I'm discovering that my core values of ease, fun and authenticity have become even more important than our company's skills and talents with Internet marketing strategy, website design, video production, social media marketing, SEO and the rest. 
Radical, eh?
Sometimes this kind of branding/positioning is as simple as adding a line about these values to an email of introduction (and, yes, just last week a prospective client made a point of telling me that she appreciated the fact that these values were included in my email. There was an added element of rapport created even before we spoke on the phone).
This values-based approach really gets juicy when it's applied to a new breed of video that I'm calling a "rant." Rant videos are further explained and illustrated below.
Another unexpected result of this awakening for me is that my long-established axiom of "Leading with Value" (Key Concept #8 in my book) is causing me to choose to position myself and my company's work more clearly around our own core values.
How Audacious Authenticity Can Attract New Revenues
"When you reveal your passion for being of service through your business in the boldest, most transparent and vulnerable way possible—for example, in a series of online video rants about things you care most about—this does more now for opening up revenue flow than almost anything else, particularly if other things have failed and you find yourself extremely stuck. Video is THE medium that carries genuine emotion the very best, online. Use video to allow money to find you, as a reflection of the full expression of your heart." — Andrea J. Lee, WealthyThoughtLeader.com
The video above is my latest experience with both real time marketing and the art of the video rant.
My friend and client, veteran executive coach and management consultant, Nancy Monson and I were having a marketing consulting session. The day before I had been on a group coaching call with Andrea J. Lee where she had said what's quoted above about the power of the video rant to both reveal passion and open revenue flows. As I directed Nancy to speak her truth about why most executive coaching doesn't produce the desired results, she lit up. Recognizing that we were getting to the heart of her values and her commitment to make a meaningful difference, I said, "Let's capture this, so we don't have to write it down." At first she thought I was going to make an audio note. But, after a slight hesitation, she agreed to let me record this video with my iPhone.
The video rant above is the result. I salute Nancy for her courage to swing out in this way and I'm pleased with how her knowledge and commitment to results have been made visible.
The Zen of the Real Time Rant
"The art and science of marketing is now about focusing on real-time connections and social exchanges." 
— Vocus blog post
It's widely recognized that because of the explosion of social media and mobile communications, real time communications are the leading edge of what I call New Marketing. What better way to leverage these trends along side the New Marketing requirements for authenticity and engagement than with a video that is spoken with passion, from the heart? (And, it's easy to see why formal production values are not required.)
More to come. I look forward to your feedback; and by all means, if you like what you've read and seen here, please share in every way possible (links below). Thank you! 🙂
PS. If you are interested in bringing more of your authentic passion and core values to your online marketing, please contact us. We'd love to help.
https://www.combridges.com/wp-content/uploads/2014/05/NM-composite-for-blog.jpg
300
700
JonLeland
https://www.combridges.com/wp-content/uploads/2017/06/ComBridges-Logo-300x60-300x60.jpg
JonLeland
2014-05-08 11:36:31
2014-05-08 11:36:31
Video Rant Reveals the Surprising ROI of Leading with Values