New Experiment: Weekly Tech Talk Google Hangout with "3 Geeky Amigos"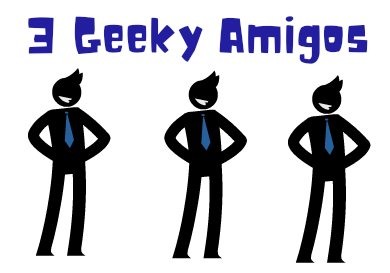 Of course, we are all always learning; and another "always" is that I'm always telling myself (and others) that I need to do video on a much more regular basis.
I've also been attracted to the streamlined production efficiencies offered by Google's Hangouts On-Air which not only provides a nifty and unique interface for group video chats, but a seamless integration with YouTube so that when you choose to record your Hangout, the "On-Air" part auto-magically posts the recorded video conversation to YouTube.
I'm also lucky to have some wonderful, knowledgable (OK, fellow "geeky") friends who are excited to join my in this high tech video playpen (or I guess the tech term is "sandbox"). In this case, my co-hosts are Taylor Fogelquist of Active Ingredients and Peter Klein of Empower Your Brilliance.
The result is a new weekly tech talk show that we've dubbed, "3 Geeky Amigos." You can join us live at 3pm PT every Tuesday afternoon (except June 18th). We'd love your feedback. Please tell us what you'd like us to explore. What would be most useful or interesting to you?
Here's the first episode embedded below. It's more of a "rehearsal" than a "premiere." I'm confident we will keep getting better and better as we find the flow of this new media environment and get YOU involved. 🙂 And, we hope you will also join us this Tuesday at 3pm PT.
https://www.combridges.com/wp-content/uploads/2017/06/ComBridges-Logo-300x60-300x60.jpg
0
0
JonLeland
https://www.combridges.com/wp-content/uploads/2017/06/ComBridges-Logo-300x60-300x60.jpg
JonLeland
2013-06-02 14:07:57
2013-06-02 14:07:57
New Experiment: Weekly Tech Talk Google Hangout with "3 Geeky Amigos"