Need a Beautiful New Website?
Get Expert Guidance & Co-Create It with Ease.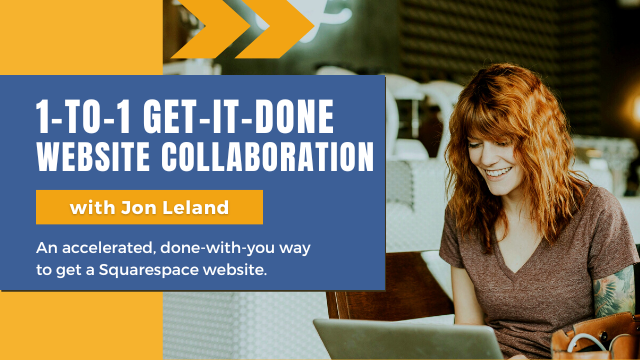 As a "marketing sherpa," I love helping people to get the most done in the least time.
For website design, I've created a powerful, streamlined approach. I call it "1-to-1 Get-It-Done" because it's collaborative and

remarkably

productive.
As your guide, I will help you leverage the Squarespace website development platform. Together, we will co-create a modern,
mobile-friendly
website. We will get more done in less time than you might think possible.
I've been designing websites since 1995. Creative direction comes
naturally
to me. So why struggle to make decisions about site structure or to focus your website's text? I excel at making quick, masterful decisions that lead to a better website.
Squarespace has elegant templates and its built-in feature set includes everything necessary from contact forms to embedded videos. Your website will zoom into existence.
How Does This Work?
Your 1-to-1 Get-It-Done Squarespace Website will come together in a three-hour session. This is not a complete website project.
By design, this is a quick, streamlined process. I guarantee that you will make a giant leap toward your new website. The more decisive you are the better. Embrace a "done is better than perfect" attitude and we will make more progress. Bottom line, we will get as much done as possible within an action-packed three hours.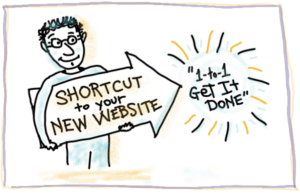 Sometimes, we are able to complete a whole website and launch it. Other sessions make enormous progress. Either way, everyone learns about how to use Squarespace. For some people, this means that you may be able to complete your website by yourself. Some other people choose to come back for more collaboration. That's up to you. Zero pressure. No commitment beyond the 3-hour session.
What you can do in order to maximize our productivity is to be as prepared as possible. I will guide you. Your full participation will ensure your greatest benefit.
Book a complimentary 15-minute discovery session to explore if this is a good fit for your needs.
Got questions or ready to book? Click here.

"I am very pleased with the results of the '1-to-1 Get-It-Done' Website session that I did with Jon Leland. In less than the time it takes to play a round of golf, we had my new website designed and published… Prior to this session, I had wasted many hours, over a couple of months, trying to update my website. In just one afternoon, he saved me a ton of time and money."
"My work with Jon Leland produced the most amazing website results and in far less time than I could have imagined! In only three-hours, we crafted a 7-page website that I absolutely love. Jon was fun to work with, creative sparks were flying, and at the end of the session, when we launched my new site, it was literally a dream come true. The icing on the cake was that I left with enough training and familiarity with Squarespace that I can now manage and edit my own website. THANK YOU, Jon!"
"The future of website design is here! Squarespace in the able hands of Jon Leland was a revelation. He guided me through a re-design more quickly, elegantly and affordably than I imagined possible. Now, I have a modern, good-looking, mobile-friendly website; AND it's on a platform that empowers me to have FUN evolving it by myself. I couldn't recommend Jon's unique approach more highly."
"Jon's services went way beyond my expectations. In the space of 3 hours, he not only provided me with a tutorial on using Squarespace, he also helped organize, with my input, the framework for the revised site. It was amazing! I wasn't overwhelmed with the behind-the-scenes tech or design stuff. And, I felt empowered to continue on my own when we finished. Thanks, Jon!"