NextGen Social Media
Pinterest is much more than the latest and greatest "hot" new social network. Because of it's visual nature, I believe that this upstart social network reflects the next generation of socially networked communication. In the current and coming stages of the evolution of the Web's social revolution, the written word is no longer sufficient.
In case you haven't tried it yet, Pinterest is essentially an online vision board. It lets people "pin" images that they find inspiring, useful or beautiful and then share their collections of images—called "Boards"—with others. When people "re-pin" the images, they are essentially "retweeting" or sharing visual communications in a state-of-the-art social media style.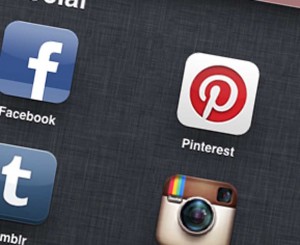 This naturally compliments the ways that video and photo sharing have become majorly important. In fact, the array of visual communication innovation that we are seeing right now is indicative of the dawn of a new age. The web has quickly become a more dynamic visual medium. Text and hyperlinks were a foundation, but only a beginning. And we are still in the early stages.
Let's Get Visual!
This trend isn't new, but it does make a big difference. For example, Facebook power users know that when you share pictures, not just text updates, it fuels increased engagement in a big way. In other words, you get more "Likes" and comments when there's a visual component to what you post.
Elsewhere, Tumblr has extended the Twitter-powered popularity of micro-blogging in a much more visual direction, and the popularity of using Instagram to share and talk about photographs is also surging (and is poised for major new expansion when the Android version of the Instagram app is released soon). ReadWriteWeb even reminds us that it is this mobile-phone-powered digital photography trend that slew the former photo corporate dragon: "Death by Smartphone: How Mobile Photography Helped Kill Kodak."
And then there's YouTube which recently announced that 24 hours of video is uploaded to their site every twenty-four seconds. The video visual media explosion is so dramatic that YouTube itself produced this quick little 45-second video in an attempt to make its mind-boggling growth comprehendible:
If doesn't clarify this explosion for you, Time Magazine recently ran an article, The Beast with a Billion Eyes, which characterizes YouTube as "the most rapidly growing force in human history."
Blogger/consultant/author Jay Baer  says: 
"This is the year that photos challenge writing as the lingua franca of the social web… If you're not taking and posting pictures to dedicated photo networks and cross-posting (when appropriate) to Twitter and Facebook, you're missing out on a huge opportunity to grow your network and see the world through the eyes (or cell phone cameras) of thousands of new friends."
The fact that the verb "pinning" has been showing up in conversations that aren't even specific to Pinterest is a huge testament to the fact that people are captivated. If you think about how many times a day the verb to "google" is used to mean "search," you can see that we're on to something.
Why Is This Important for Business?
According to the Wall Street Journal, traffic to the Pinterest website has grown tenfold over the past six months. In January, the number of visitors on Pinterest was already almost a third of that on Twitter.
But Pinterest's impact of web traffic may be even greater than Twitter's. Based on a recent study conducted by Sharaholic, Pinterest drove more referral traffic to sites in January than Google+ (with 100 million users!), Reddit, YouTube, LinkedIn and MySpace all combined. Those are big-time numbers for the new kid on the block.
But, is there really room for another player in the social media VIP room? New York Times technology columnist David Pogue in his review, A Scrapbook on the Web Catches Fire, gives three good reasons why there definitely is:
It's clean. No ads, no pop ups, no blinking anything. It's a pure and relatively simple rest for the eyes.
It's personal. Broadcasting isn't the focus, rather your own interests take center stage in an authentic way.
It's humble. Pinterest Boards are about beauty, inspiration, information, passion, not self-absorbtion. It's not, "Look at how great I am!" It's, "Isn't this GREAT!"
The blogger Beth Hayden sums it up well when she says Pinterest can  "…start making your social media strategy more beautiful, one little pin at a time." When you add to this the fact that the early research seems to show that it will also make your social media marketing more engaging; and, when done appropriately, it will also help connect you to your constituencies at a deeper level: What's not to like?
——
Our Other Pinterest Post:
Luscious Links to Unlock Pinterest: Free Resources Show How to Pin Your Marketing
https://www.combridges.com/wp-content/uploads/2017/06/ComBridges-Logo-300x60-300x60.jpg
0
0
JonLeland
https://www.combridges.com/wp-content/uploads/2017/06/ComBridges-Logo-300x60-300x60.jpg
JonLeland
2012-03-16 17:04:51
2012-03-16 17:04:51
Social Media Goes Visual: Why Pinterest is More Than You Think