Anyone doing online marketing faces the challenge of how to engage and inform visitors, while also communicating clearly enough that people get the intended message. Without the human face of a home page welcome video, most websites miss a crucial opportunity to engage with authenticity.
At the end of the day, at least in my opinion, there's no point in digital marketing, if you don't make an authentic connection with website visitors. Given the fact that website visitors, in general, have the "attention span of a gnat," the power of video has become paramount. (For more on this, I produced this video in 2010 that's still relevant: Why Online Video is Now a 'Must Have' for Internet Marketing)
Videos Starring You Are Essential
One of the best ways to grab people's attention is video. I am fond of reminding people that a video is starring you, has the added advantage of making a virtual human connection that only a human face and voice can deliver. Video does this quickly and in the exact way that brief home page visitor encounters require.

For more on why a human face should be in videos and not just hidden behind a whiteboard animated video, I recommend Wistia's recent post, Your Business's Videos Should Include Faces. Here's Why.
The authenticity of human connection in video is one of the main reasons that I've been promoting video for years. I love opportunities that help my clients tell their stories by producing "welcome to my website" videos. Recently, I've produced two of these videos for clients. I'm offering them here as examples of how to do this, including some detailed production insights.
Helping an Expert Witness to Testify
Recently, I had the opportunity to work with Mark Levy, a forensic psychiatrist whose firm provides expert testimony for legal matters. His new company website for Forensic Psychiatry Associates Medical Corporation, fpamed.com, needed a new video for its home page. Mark was clear that his earlier "do-it-yourself" effort didn't represent him in with a professionalism that reflected his services. This collaboration took the form of a low-budget video shoot with my Canon DSLR camera.
As you can see in the video above, Mark is an excellent speaker; however, one issue with his earlier video, was that it ended up being a bit unfocused. Without wanting to toot my own horn too loudly, I was pleased to be able to add value, as a director and performance coach. I'm not just a cameraman who sets up the camera and records "pretty pictures."
In this case, I felt more like a "crafter of communications" because I guided Mark in ways that ensured his video had a structure, a beginning, middle and end. Now, he has a website welcome video that includes an engaging and direct welcome message and a call to action at the end.
Beyond YouTube for Online Video Delivery
Another capability that I provided and applied to Mark Levy's videos was optimizing them for YouTube search. Behind only Google, YouTube is the second biggest search engine in the world. If you aren't already aware of this fact, let it sink in. Many small businesses consider SEO optimization for their website, but most don't think about optimizing their YouTube video clips to be found in search. This is a very common mistake and often overlooked by a video novice.
In addition to YouTube for attracting new viewers and potentially new website visitors, for Mark, I also recommended and implemented video hosting on Wistia.com so that when Mark's video clips are embedded in his own website, they can be customized to match his website's colors; and, more importantly, so that YouTube doesn't have the opportunity to "steal" traffic away from Mark by pushing other psychiatrist's videos to his viewers at the end of his clips.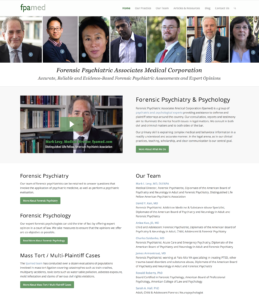 Bottom line, Mark's website is his own "owned" virtual real estate. Why let YouTube leverage it for their objectives? Owned media is a thing and we should all maximize this kind of control on our own websites as much as possible.
Wistia's call-to-action and other integrated features within the video are more robust and attractive than YouTube's. Because of this, videos look more seamless as they are integrated into websites.
Giving Wistia a try is easy given that their free introductory level includes three videos hosted on their video delivery platform. Beyond that, it's $99 a month. This pricing may not work for every small business, but I recommend it for companies that have a serious commitment to video marketing. The image to the right is how this video looks embedded in Mark's home page.
A More Scripted Approach & Cool Piece of Video Tech
I would also like to share a second video client case study. The second home page welcome video that I produced recently was for physical trainer, Adam Hirsch of adamhirsch.net. A significant difference, in this case, was that before the video shoot, Adam and I collaborated on a script.
Truth be told, while Adam is extremely knowledgeable about his expertise with physical training, his expansive perspective of this subject can also result in him being a bit verbose. Because of this, we needed to find a way to help him be more concise, especially given the online environment where, as I mentioned, holding people's attention is at a premium. By collaborating on a script, we were able to co-create a straightforward and concise description of what Adam offers.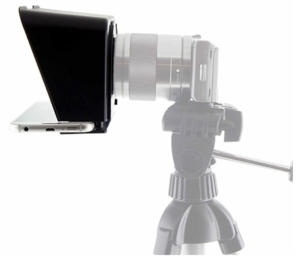 However, this creates a different challenge. I didn't expect (nor was there time) for Adam to memorize and deliver this script like a professional actor. So, while Adam's new home page video was also shot with my Canon DSLR camera, we used a nifty little piece of technology in the form of a small affordable teleprompter that uses an iPhone for the scrolling text.
Another example of how advanced small electronics are becoming, the Parrot Teleprompter costs only $115 (plus shipping) and fits virtually any video camera. I loaded the written script onto my iPhone before the shoot, and used the voice-activated PromptSmartPro ($19.99, free version also available) so that the text scrolled right along with Adam's pace of delivery. No teleprompter operator required.
Not only was the hardware a small fraction of what it used to cost, personnel costs were also significantly reduced. The use of a teleprompter, when appropriate, has become remarkably accessible!
I believe the result is a clear presentation, well-articulated and precisely-focused in a way that would not have been otherwise possible. Take a look and see what you think.
At Your Service
Bottom line, I approach online marketing as relationship building. The quality of communication, when done well, enables authentic connections to be built via whatever medium is at play and regardless of what technologies are used.
Sure, innovations like Wistia video hosting and the Parrot Teleprompter help make this happen, but there's no substitute for quality content and that's what we do.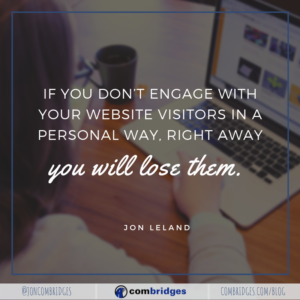 I believe that the human beings who are such a crucial part of every forward-thinking organization or business needs to be "front and center," right from that first nano-second that a web visitor spends on your website. After all, if you don't engage with them in a personal way, right away, you will lose them.
Please let me know if I can help you or your organization. Thanks!
https://www.combridges.com/wp-content/uploads/2018/10/Marin-Airporter-Blog-Header.png
300
640
JonLeland
https://www.combridges.com/wp-content/uploads/2017/06/ComBridges-Logo-300x60-300x60.jpg
JonLeland
2018-10-31 15:53:07
2019-01-26 18:56:15
Create Authentic Connections: Website Video Production Insights