Google SEO Update: Your Website MUST Be Mobile-Friendly & How Squarespace Might Help
Having Your Website Be Mobile-Friendly Is No Longer Optional
I've been writing about how important mobile-friendly websites are for almost two years. Between smartphones and tablets, my website is seeing almost 20% of its traffic come from mobile devices. Industry standard is more like 30% and often more. That should be reason enough to make sure that your site is optimized for "the mobile experience."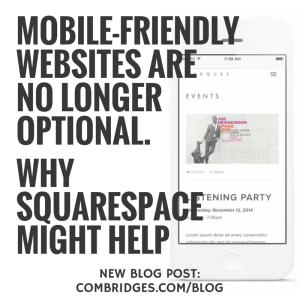 However, now, there's another major reason to address this issue. Google has just announced (in a relatively unprecedented manner, i.e. in advance) that within the new search engine algorithm update that's coming on April 21st, 2015, "we will be expanding our use of mobile-friendliness as a ranking signal… (and it) will have a significant impact in our search results." 
In other words, beyond not being user-friendly to mobile browsers, your website will very likely LOSE web traffic if it is not mobile-friendly. And, this change in search results will be most dramatic among those searching and finding your website via mobile devices.
But none of us wants to lose ANY visitors, do we?
Are You Ready for Mobile-Friendliness and Mobile Search?
There is no single approach to having your website become mobile-friendly. And, the bad news is that most approaches add cost and complexity. The exception is turnkey systems like Squarespace.
Overall, your approach to mobile-friendliness will vary depending on your website authoring and delivery platform, and this is a moving target that few small businesses understand.
If you are using WordPress, for example, there are themes that are "responsive" which means their layout varies depending on the width of the device being used to view the site. This is a good thing, and that's the way that our ComBridges.com website is currently done. It works, but there can be complications. For example, when you update content or want to make layout changes of almost any kind, you must consider how those changes will look in mobile. It's an easy thing to overlook, but if you are committed to WordPress, then for many small businesses, responsive is the way to go.
Another approach is to build your website with "mobile first" within the architecture of its construction using CSS components from the ground up (including a custom theme if you are using WordPress). For example, I'm currently supervising design and production of a website pro bono for a large non-profit and I'm very pleased with the results of this approach. It looks great on mobile and on the desktop, but this approach does add significantly to the cost of the site. And, it's really only viable for new websites or a complete redesign. Because of their limited resources, few small businesses want to make that kind of investment.
And, some businesses actually do a separate version of their website for mobile viewers, sometimes using a mobile plug-in and sometimes a separate app. While this can optimize "the mobile experience," this also means maintaining a separate version of the site. So, every time you do an update of any magnitude, you have to update the mobile version; thus, the cost for maintaining this kind of website increases. Again, not so good for small businesses with limited resources.
But, there is a low cost solution that is as bullet-proof as any technology will allow…
Squarespace to the Rescue
Recently, I've been doing more and more websites for small businesses using Squarespace. I like the simplicity of the system, the elegance of the templates, and now, mobile-friendliness is another key benefit. As Squarespace explains in this 2013 blog post, "Mobile Is a Big Deal… Why Isn't Your Website?":
"Comprehensive website solutions like Squarespace do all the work for you by providing templates that are designed with beautiful, functional mobile use in mind."
The trade offs are that there are far fewer templates on Squarespace than there are WordPress themes and not all of the bells and whistles features, but most. So, if you agree with me that the templates that Squarespace does have are elegant and modern, then one advantage that you get is that you know your website is built from the ground up (like a more custom mobile site) with mobile-friendliness in mind. And, as you go forward, you can rest assured (within reasonable limits) that your website updates will not break the template or theme, another blessing of operating within a closed system.
Other Actions You Can Take to Address the Google SEO Update
No matter what approach you decide to take, there's no doubt in my mind that being mobile-friendly is no longer an option. Your organization needs to look good on mobile devices for both mobile browsers and, now, for Google and the other search engines.
No matter how you proceed, I highly recommend you (or your web master) check out this post from Search Engine Land which offers a very practical set of steps you can take to assess and improve your website's mobile status, starting with a free test. As they say in their post's title, "Take These 3 Actions To Get Ready For Google's Mobile Search Update."
Here's the "1, 2, 3" bottom line:
Identify & Improve Your Mobile Web Optimization Status including use of Google's free "Mobile-Friendly Test" tool. Click here to get a mobile-friendly assessment of any webpage.
Assess Your Mobile Web Search Visibility & Traffic Behavior
Establish Your Mobile Web Search Competitiveness & Monitor Your Performance
Tech-savvy details for this kind of evaluation are included in that post.
Done-For-You vs Done-WITH-You
And, for those of you who may not have heard, if you are interested in a Squarespace website, ComBridges is pioneering a collaborative process we call "1-to-1 Get It Done Websites." It saves money and time. Please click here to learn more about this innovative approach.
And thanks for reading!
[alert type="notice, warning, success, error, info" close="true"]A Note About Comments
Thanks in part to all the blog comment spammers, comments are turned off on this blog (at least for now). However, PLEASE, I would LOVE to hear from you, including any comments, criticisms, suggestions or whatever, via any of the social networks linked at the very top of this page. Thanks.[/alert]
https://www.combridges.com/wp-content/uploads/2015/04/Header-Mobile-Friendly_v3-800.png
370
796
JonLeland
https://www.combridges.com/wp-content/uploads/2017/06/ComBridges-Logo-300x60-300x60.jpg
JonLeland
2015-04-02 17:45:53
2021-12-18 23:51:51
Google SEO Update: Your Website MUST Be Mobile-Friendly & How Squarespace Might Help