Anyone who pays attention to search engine results—which is pretty much anyone who does any kind of search engine optimization (SEO) or Internet marketing—knows that the world of SEO is changing rapidly. Even big time properties like NYTimes-owned About.com have publicly confirmed precipitous drops in traffic because of Google's most recent updates to their algorithms (called "Panda" and "Penguin"). And more of these changes are coming from Google very soon.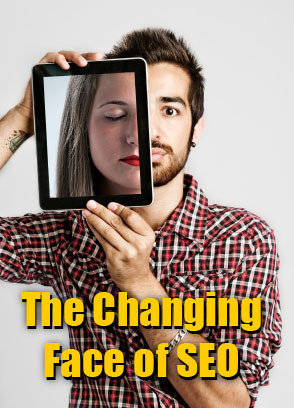 The Changing Face of SEO Strategies
We all know that change is almost always challenging, and I know that many of those who dance around the edges of Internet marketing frequently back off due to completely understandable experiences of overwhelm. There's just so much going on. But that doesn't change the fact that it really is a "brave new world." In all honesty, I can only promise more changes at an accelerating rate.
The (hopefully) good news is that I'm here to bring you up-to-date and to help if I can. So here's the latest:
Expanded Influences: Beyond On-Page and Off-Page Factors
In my book, "Internet Marketing: 8 Key Concepts Every Business MUST Know" (which I am now referring to as "The Essential Primer on Internet Marketing"), I break SEO, or search engine optimization, down into two main areas.
Briefly, the first area is On-Page Factors. These are things you can do to your web pages, from its content to things like HTML <title> tags, and much more.
The second area, Off-Page Factors, are probably more important and provide influence to search engine rankings based on the links TO your site and its pages from other websites. Search engines consider the willingness of other reputable websites to link to your site as a kind of "vote of confidence" that essential boosts its credibility.
While I'm just skimming the surface of these two components of SEO, the big news that I am reporting here—to those of you who don't monitor this space in a professional capacity—is that there is now much more to SEO than On-Page Factors and Off-Page Factors. This is increasingly so, and in the spirit of the Big Data trend, there's no question that this world will continue to become increasingly complex.
In order to keep this single blog post digestible, if not bite-size, I'm going to provide a high-level overview of the new components of SEO and offer links that deliver what I consider to be a valuable in-depth illumination of these new SEO factors.
Welcoming Social Signals to the Internet Marketing Mix
The biggest new ingredient is called "social signals" and it's where the social media explosion meets the world of SEO. Just as search engines have used links as Off-Page Factors to determine a website's influence, Google and the other search engines are now using you and/or your company's social media activities including re-tweets, comments, likes and shares as indicators of your site's value, especially as it relates to the keywords being searched in areas relevant to your expertise or market.
For more on this I recommend this excellent overview of the meaning and importance of social signals from SEOmoz: 
http://www.seomoz.org/blog/your-guide-to-social-signals-for-seo
You may also want to check out this thoughtful SlideShare, The Future of SEO from Rand Fishkin:
At the end of the day, it's all about quality content
There's no question that this is a moving target. But the good news is that Google is being consistent in their approach. They do their best to penalize those who try to manipulate search results, and they do their best to reward those who develop an authentic following, a positive reputation over time, and thus, real influence. Those people have always been known as "authorities" and they naturally exude that "social signals" that the search engines value above all else.
The real bottom line is that the best way to get good positions in Google's search results is to earn those results the "old fashioned way" … by being valuable. This means consistently publishing content—whether written, recorded audio or video, or photography or other visual media. There is no substitute for quality content (known now as "content marketing"); and this will increasingly be the only true leverage in search engine results.
We are here to help
Finally, a bit of shameless self-promotion: We continue to evolve ComBridges SEO and social media marketing services. For example, we can manage your campaigns and provide strategic guidance. Please let us know how we can help.
https://www.combridges.com/wp-content/uploads/2017/06/ComBridges-Logo-300x60-300x60.jpg
0
0
JonLeland
https://www.combridges.com/wp-content/uploads/2017/06/ComBridges-Logo-300x60-300x60.jpg
JonLeland
2013-05-16 10:34:24
2013-05-16 10:34:24
This Ain't Your Mama's SEO. Tuning Into "Social Signals" and More.