Sad, but true: Email marketing is more complicated than most people think it is.

In a recent Fast Company "From the Editor" column, Robert Safian said:
"In so many ways, we are guinea pigs in an ecosystem that is undulating more rapidly than anyone can keep track of."
True that, especially with regard to small business digital marketing. So, depending on your attitude, this "undulating ecosystem" can either be fun or overwhelming. 
Your Virtual Guinea Pig in the Digital Mud
As I see it, part of my value is to "span the Grand Canyon Gap between people and technology with ease and fun" by experimenting and sorting out options—like a virtual guinea pig in digital mud—in order to find the most effective small business digital marketing applications and strategies. My intention is to use my passion for finding and testing applications in order to make your work easier and more productive.
Specifically, in this post, I'm sharing a quick overview of why I have migrated my own and one of my largest client's email marketing to a new cloud-based email marketing application that is an alternative to MailChimp and Constant Contact.
Email Marketing: Use a Laser, Not a Shotgun
I recently migrated my email list from MailChimp to Convert Kit (affiliate link). Sure, Mailchimp is easy and serves many people very well. In fact, I still use it in my work with a number of clients who, out of necessity, need to keep things on the simple side. However, MailChimp, ConstantContact and other entry-level email programs have significant limitations with regard to list segmentation; and, as I explain below, laser-focused list segmentation is now a far more effective email marketing strategy.
Why Is Easy Access to List Segmentation Important?
Here's an important fact about email marketing, especially when you consider today's over-crowded in-boxes:
The more you can segment your lists the better.
More commonly—and especially with the typical style of email newsletters—many small business marketers employ a "shotgun" approach. These "email blasts" are essentially "un-targeted" in that they are sent to the whole list, and thus they are very often delivering a bunch of information to people who don't really want it. Subscribers get "hit" with this blast and are force-fed these messages whether they want them or not.
Another common mistake, in my view, is putting a whole bunch of different information into one email message, i.e. the newsletter format itself, by being broad, works against the fact that a limited attention span is a fact of life with today's subscribers. Short and laser-focused messages are better.
Even more importantly, e-blast newsletters are not a very nice way to treat people, especially your subscribers. And, of course, your subscribers are also your prospective new customers and your top referral sources!
Thus, your email messages need to be better-targeted in order to be more relevant, meaningful, and respectful of people's time. (One caveat is that if you consistently deliver real value with your email messages, periodic broad email blasts are OK, but you should not expect them to create a "trail to the sale," i.e. conversion rates on those messages can be expected to remain low.)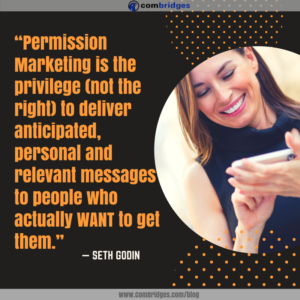 Why a More Subscriber-Centric System Is Better
Very briefly (because this gets a bit technical), what sold me on ConvertKit is a fundamental limitation of MailChimp's software architecture. Specifically, MailChimp's software is built around a structure of lists. Yes, you can create segments within a list, but what if you want a segment that goes across lists? For example, what if you want to create a follow up email message specifically for people who have responded to (clicked on) a particular offer? In MailChimp, you can't do that. This is important because that offer was presumable created in order to follow up with those individuals who expressed interest in it. In my view, that's a pretty bid deal.
In order to get this kind of power, in the past, I have experimented with more sophisticated email programs like Infusionsoft. And, yes, it offers the tagging of segments across lists, but both the cost and the complexity (not easy to use) ended up being deal breakers for me.
Convert Kit does a lot of these same things, but with a much simpler interface that is more intuitive and accessible. (However, it does not do some of the other things like e-commerce that are built into Infusionsoft.)
Yes, Email Marketing Can Be More of a Conversation
The building of meaningful relationships online requires finding out what people are interested in, listening and getting feedback, and then tailoring your messages to what readers have said that they are interested in. Ideally, this makes our email marketing outreach more like a conversation—a conversation where you are listening as well as speaking.
Given all that is going on—disconnection, automation, not feeling heard—our email communications need to speak to people as if one is having a conversation, not like you are standing on a soapbox and yelling, on a very crowded street. 
I believe that this means that we all need to move to strategies that encourage us to speak explicitly, in different ways that are appropriate to each highly-segmented audience. In this way, we can do a better job of delivering what people want, when they want it—not by deciding for them, but by listening to them. 
I, for one, am listening.
Your thoughts please (there's always more to learn). Thanks for reading.
And, of course, if I can help you with improving the effectiveness and quality of your email marketing, please contact me. I'd love to hear about what you are doing and explore how we might make things better.
https://www.combridges.com/wp-content/uploads/2017/09/email-marketing-blog-header-v2.png
300
640
JonLeland
https://www.combridges.com/wp-content/uploads/2017/06/ComBridges-Logo-300x60-300x60.jpg
JonLeland
2017-09-05 00:00:00
2019-11-04 19:12:41
Email Marketing Beyond Newsletters – Conversations & Conversions