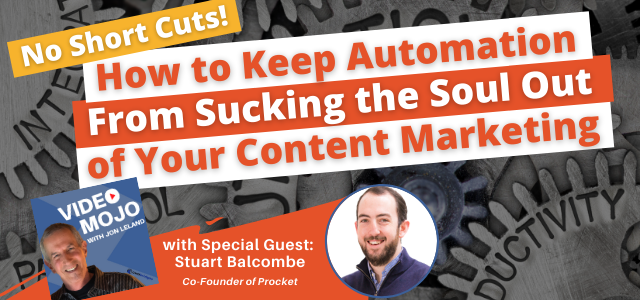 How to Keep Automation from Sucking the Soul Out of Your Content Marketing
Content marketing is a powerful tool for building business relationships. But if you're not careful, automation apps and content-hungry social media channels can turn meaningful marketing into an impersonal, soulless "noise" that leaves no room for the delivery of real value.
In this Video Mojo video podcast conversation, Stuart Balcombe, co-founder of content marketing agency Procket, and I offer actionable strategies on how to create meaningful short-form video content marketing that leverages podcasts and webinars in a way that keeps it from sucking the soul out of your business! As always, the resource links mentioned can be found below.
ABOUT VIDEO MOJO
Video Mojo a playful exploration of the leading edge of video & social media marketing hosted by award-winning media innovator, Jon Leland.
Follow Jon at @joncombridges on Instagram, Twitter, TikTok, or Clubhouse.
Please connect with us or subscribe to our free Luscious Links emails here:
https://play.combridges.com/links
RESOURCE LINKS FROM THIS EPISODE:
https://www.combridges.com/wp-content/uploads/2021/08/ComBridges-Blog-2.png
300
640
JonLeland
https://www.combridges.com/wp-content/uploads/2017/06/ComBridges-Logo-300x60-300x60.jpg
JonLeland
2021-08-13 19:26:11
2021-08-13 19:26:15
How to Keep Automation from Sucking the Soul Out of Your Content Marketing