Forget "shiny objects" and "silver bullet" formulas. Please. There's a better way. A much better way. And, in the age of coronavirus, it's time to boil things down to the essentials, don't you think?
Relationship-based marketing makes your business sustainable for the long haul, allows you to be of service in a way that's meaningful to you, and creates a process that you can enjoy every step of the way.
In the episode of Video Mojo above, I do my best to will help you avoid the worst mistake in digital marketing (spoiler alert: it's making your marketing all about the money) while illuminating the path to more satisfying forms of success.
About Video Mojo
Video Mojo is a video blog and podcast hosted by award-winning media innovator, Jon Leland of https://www.combridges.com. It combines timeless marketing principles with a playful exploration of the "bleeding edge" of digital video & social media.
Resource Links from this episode:
– Robin Sharma "5am Club": https://www.robinsharma.com/book/the-5am-club
I'd love to hear what works for you and if you find this program useful. If you've got questions, feedback, or suggestions, please comment below, or let's connect (and leave us a review on Apple Podcasts or wherever):
* YouTube Channel: https://www.youtube.com/jonleland​/
* Instagram: https://www.instagram.com/joncombridges/
* Twitter: https://twitter.com/joncombridges​/
* Podcast Home: https://anchor.fm/video-mojo​/
VIDEO TRANSCRIPT:
3 Ways to Avoid the WORST MISTAKE in Digital Marketing: Formulaic vs Relationship-Based Marketing
Hi there and welcome to another edition of Video Mojo. My name is Jon Leland from ComBridges.com. Video Mojo is a podcast and a vlog that connects timeless marketing principles with a playful exploration of video marketing and social media marketing.
Today we're going to explore 3 principles to help you avoid the worst mistake in digital Marketing. In other words, why formulaic marketing hurts your brand and how relationship based marketing builds success.
This is a subject that is very near and dear to my heart. It is something that bugs me in the marketplace where, I think, we all, in this day and age, have much more sensitive "bullshit meters" than ever before. We recognize hype, we recognize when people are trying to manipulate us, and now with coronavirus and kind of a reinvention of our entire society (at least I hope in some ways), more and more people are trying to focus on what is essential and important in life. This contrast between what I call relationship-based marketing and manipulative or formulaic marketing is really at the heart of the matter.
I think that the worst mistake that you can make in digital marketing is to make it all about the money. Formulaic marketing taps into this kind of myth that I think a lot of people have, that there can be a silver bullet. That if you just follow this formula A-B-C-, it's a guaranteed six to seven figures. We all know it's a myth. It's just a false promise and people are playing on the entrepreneurial spirit that's out there, genuine authentic longing to be of service. And they are capitalizing and going – well these are the tips and tricks -. I think we all have a propensity to look for shiny objects, quick fixes, and that kind of thing. But you know, stay away. I think that is the worst mistake not only to buy into that but also to think that that's a recipe for success.
To be clear, I'm not saying that techniques and strategies such as sales funnels or email sequences are bad per se. There are a lot of very solid techniques but there's a fuel that powers them. And that's the things that I'm most passionate about and why I'm involved in online marketing. So I want to offer you 3 key principles that I think really make marketing work in the face of all this bull.
1- Make Authentic Human Connections
So #1 is the fact that we need to make authentic human connections. That's why this is Video Mojo and why I'm such a big proponent of online video. We need to make human connections. Those human connections need to be fueled by value.
2 – Human Connections are Fueled By Value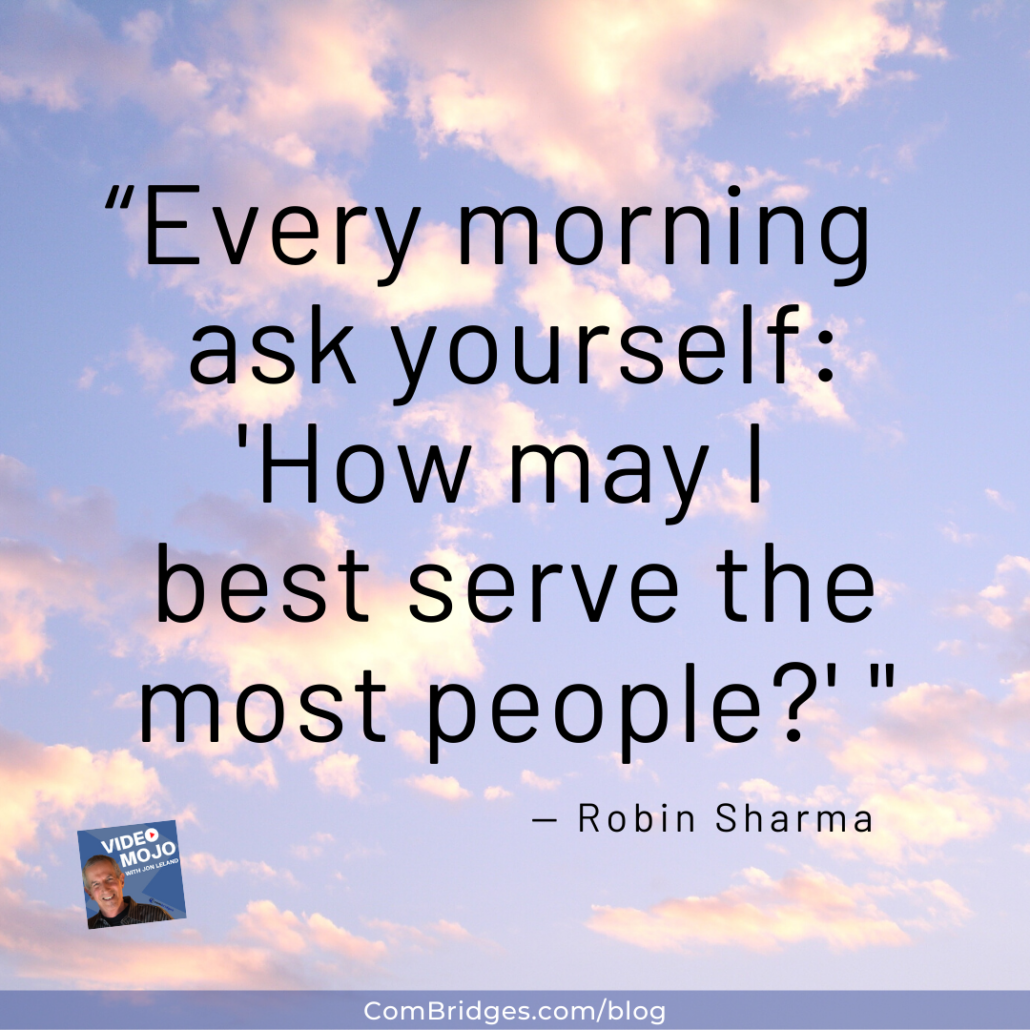 I am reading a book right now by Robin Sharma called The 5 am Club. And he talks throughout the book about this goal which is to serve as many people as possible. And I think that's something that, if not all of us, most of us want to do is have our work, serve as many people as possible.
That is the second principle is if it's heart oriented, if you're really coming from service people get that and that builds on the human connection and allows you to really make a difference.
3 – Marketing is a Long-Term Process
The third principle is that you really have to look at marketing as a long-term process. I heard the famous quote recently that you shouldn't confuse the map with the territory. The map, or the design, or the strategy is really one thing but the territory is the landscape and in marketing, it's the environment that we're working within. If you're going to build authentic long-term relationships, which I do think is a very real definition of success, authentic long-term relationships, it's a process. No relationship is built in one day or in one event. Basic marketing principle being multiple touches and basics of relationship-building is contribute, contribute, contribute, and always be adding value.
I love the expression "Lead With Value". You offer your service, you offer value. The people that I know and admire that have been really successful in online marketing have generated tons of free content. And this is my modest effort, Video Mojo. No charge, no sales pitch. I'm out here trying to make a difference, trying to help people do better heart-based, relationship-based marketing, rather than the kind of formulaic stuff that is so prevalent and so hyped.
I think the bottom line is, how do you define success? There are many definitions of success but I can tell you that if you make it all about the money that is very short-sighted and not sustainable. People can smell when what you're doing is really "I just want sales, I'm just after your money". On the other hand, if you're coming from being of service, people can taste that and they can get a real sense that you're here not for the money necessarily. Although, I believe the money follows and this is what fuels a long-term business that's sustainable. They get the sense that that's why you're here, you're around and you're consistent. That's one of the big things I've talked about here over and over again, consistent content and consistent presence. That's the kind of thing that builds what I think is a definition of success which is sustainable long-term relationships.
Business is about relationships. When you're present and leading with value then I think that you have kind of marketing that can work and that will feed you all along the way so that you can become part of a learning process and evolve and develop relationships over time. It's a long game but that's a game worth playing and a game that you can enjoy every step of the way.
That's this episode of VIdeo Mojo. If you're looking for more episodes, there's a youtube channel or also on my website ComBridges.com/blog. On the blog is where you can find all the episodes including transcripts. I look forward to your feedback as always I'm very grateful for your time and attention and we'll see you next time.
https://www.combridges.com/wp-content/uploads/2020/05/Worst-Mistakes-in-Digital-Markeing_-640-x-300.png
300
640
JonLeland
https://www.combridges.com/wp-content/uploads/2017/06/ComBridges-Logo-300x60-300x60.jpg
JonLeland
2020-05-07 15:10:51
2020-05-07 15:10:53
3 Ways to Avoid the WORST MISTAKE in Digital Marketing: Formulaic vs Relationship-Based Marketing