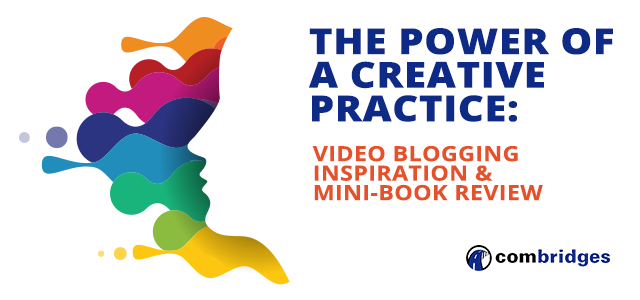 The Power of a Creative Practice: Video Blogging Inspiration & Mini-Book Review
For me, Video Blogging is more about the power of a "creative practice," rather than a profit-driven marketing strategy.
Yes, "by day," I am a marketing strategist, but more importantly, I'm also an explorer and adventurer who loves (OK, THRIVES!) by discovering new dimensions of the "online video spaces." In other words, I like to play and expand my creative capacity via social media video in all forms.
Through this new practice, I'm also learning by doing and discovering new dimensions of who I am in the world. If that approach resonates with you at all, then this ​week's video may be a joyful "kick in the pants." I hope so!
If you are a creator of any kind, you know the power of sticking to the structure of a creative practice. At Representative Elijah Cummings funeral, I heard his wife Maya say that he often said, "80% of life is just showing up."
For me, before about 3 months ago, video blogging was a dream of mine, a healthy ambition. Now that I'm doing it and showing up (almost) weekly, my life has changed! This video shares about that process in a way that I hope is inspiring to you.
Are you ready to take action on your creative dreams and put yourself out there in a new way? If so, I'd love to hear more about that from you.
​This video also includes recommendations of two inspirational books that I have found useful (and my offer of support). Here are links to those for your convenience:
Edited Transcript:
The Power of a Creative Practice: Video Blogging Inspiration & Mini-Book Review
Hi and welcome to another video blog post. My name is Jon Leland and I am a Digital Marketing Strategist. I've realized something in the process of being creative and that's what this video blog post is about. It's about the sheer power of a creative practice and I hope to provide inspiration for anybody in particular that wants to be creative and in particular wants to be creative with video blogging. I also have a mini book review (for you.)
Digital Marketing Strategy is Only My Day Job!
The first thing I want to do is correct myself. I said I'm a Digital Marketing Strategist and that is true, you could call it my day job. I play one here on YouTube, but I also am really more truly an adventurer, somebody who is exploring the digital space around being creative and using in particular video to be creative. Also, I explore communication channels, networking and the power of this thing called the creative practice.
"Creative Calling" & The Power of Daily/Weekly Practice
The book that I want to recommend to you is called Creative Calling. I think I can even bring it up here on my iPad for you. So this is the cover. It's by Chase Jarvis. The (sub)title is "Establish a Daily practice, infuse your world with meaning, and succeed and work + life."
Chase Jarvis is really quite a remarkable guy and his focus—and my focus in terms of doing these video blogs—is around the practice and the power of what happens when you keep showing up. So the reason that I said that I'm an explorer, an adventurer, even more than what I do for a living, is that that's where "the juice" is for me.
I've always loved the opportunities and this evolution of digital video. I've been talking about it, writing about it, and doing videos about it for many years. But it's only as I've dug in and made it a weekly practice that I found this whole other kind of dimension of myself. And it comes from showing up and it comes from not necessarily knowing what the results are going to be, not necessarily knowing what's going to happen, and in particular, being willing to move through regardless.
The Crazy Presumption That We Should "Have It Right," Be "Perfect," or Even Know What We Should Say
Another book I recommend is by Steven Pressfield, who talks about Resistance in the book called The War of Art. (This is) another amazing and important book for the creative professionals or people that want to play creatively.
By showing up, by being here, by being willing to hear all the voices in my head, resist the "imposter syndrome," and doing this video blog post anyway, I discover new dimensions of myself. I also get myself out there. There are lots of business benefits but that's not why I'm doing it.
I'm doing it because at heart I love learning all the time, I'm learning by doing and by experimenting.
The qualities that you don't necessarily think about when you think about being online and doing a video blog are things like courage and humility. Because the "impostor syndrome" which is the "crazy uncle in my head" says "You're not good enough," "Do you really have anything worthwhile to say?"
All of that kind of self doubt and self talk, I'm allowing that to be there but not listening to it!
Sharing A Journey of Discovery
I'm showing up, no matter what, to do something every week. That's a lot of what Chase Jarvis talks about (in his book) and he's had a lot of success from doing the work. It's the same thing Steven Pressfield says in The War of Art: Do the work. The professional shows up. Seth Godin talks about the same thing.
So, here I am showing up, doing the work and recognizing that there is a remarkable power in the creativity of just doing it. By doing these kind of video blog posts and inviting creatives like you (if you're one of those) to connect with me, I hope to help you to be supported and be inspired. I've got all kinds of programs if you're interested and if would like to be on my email list here's the URL: go.combridges.com/video-launch-pad.
The Video Launch Pad is a new offer that I'm experimenting with; but again, I'm doing this to learn and to see what kind of feedback I get, and to put it out there and engage in this kind of creative process.
So let me know what you think. I'd love to hear your comments and thank you so much for your kind attention. I really appreciate you watching and see you next week!
https://www.combridges.com/wp-content/uploads/2019/11/571744_VidThumb12_A_102819.png
300
640
JonLeland
https://www.combridges.com/wp-content/uploads/2017/06/ComBridges-Logo-300x60-300x60.jpg
JonLeland
2019-11-01 20:15:58
2019-11-04 17:54:35
The Power of a Creative Practice: Video Blogging Inspiration & Mini-Book Review