Go Beyond Best Practices: Email Is Your #1 Marketing Tool (but not the way you think)
Now, more than ever, it's essential to do what works. Why would you want to do anything else!?
​This episode of Video Mojo explains why email works so well in today's digital marketing mix. This video will also help you avoid a couple of fundamental yet common mistakes:
Don't be distracted by formulaic solutions like 'best practices" or "quick tips" that some huckster says is a "silver bullet."
Don't be fooled by "shiny objects" like the latest and greatest social media networks (or Facebook Ads) with the result that you overlook the power of email to deliver the kind of consistent value that truly connects you with the people (real human beings) that are most important to you.
If making meaningful and authentic connections that lead to sustainable, long-term relationships matters to you, then please check out this episode and let me know what you think. Thanks!
About Video Mojo
​Video Mojo is a weekly video blog and podcast hosted by award-winning media innovator, Jon Leland. It combines timeless marketing principles with a playful exploration on the "bleeding edge" of digital video & social media.
Resource Links mentioned in this episode:
I'd love to hear if you find this vlog post useful. If you've got questions, feedback or suggestions, let's connect (and leave us a review on Apple Podcasts or wherever):
VIDEO TRAnSCRIPT:
Go Beyond Best Practices: Email Is Your #1 Marketing Tool (but not the way you think)
Hi and welcome to Video Mojo!
This is a weekly video blog and podcast that combines timeless marketing principles with a playful exploration of the bleeding edge of video communications, online marketing, and all kinds of good stuff like that.
This week I'm talking about:
Beyond Best Practices: Email is your number one marketing platform, but not the way you think. And how to make your emails massively more effective.
So let's start with fundamental principles. Digital marketing is about relationships. Really all marketing and business are about relationships. And not only is marketing and business about relationships but when you build them online it HAS to be recurring.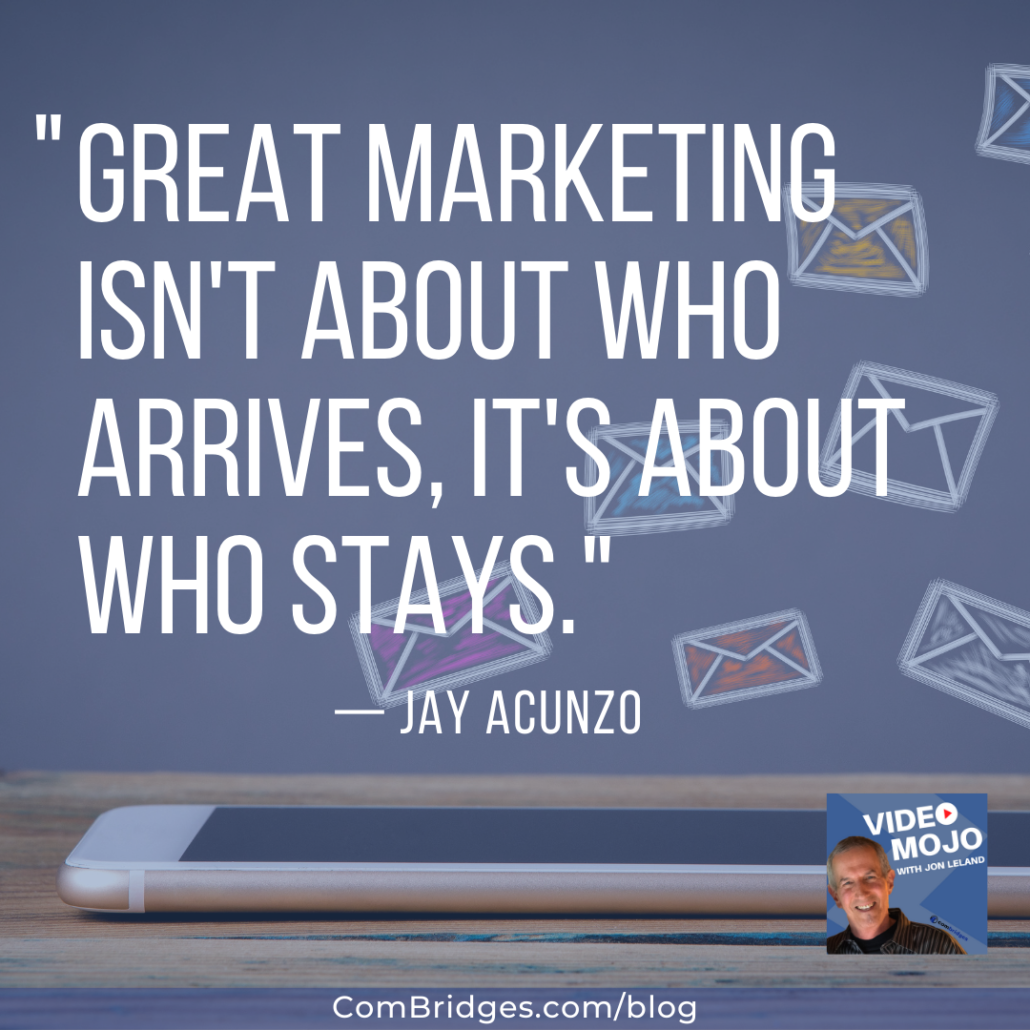 I'm going to be interviewing Jay Acunzo on Video Mojo and his Marketing Showrunners company has this line.
"Great marketing isn't about who arrives, it's about who stays."
That really is what I'm talking about. That is how you can use email to be your #1 tool. You can keep people coming back and stay engaged with the people who care about the value that you are offering.
How do you build relationships using all of these latest greatest online marketing tools? Well, email is often overlooked. It's interesting, when people are starting out and building an online presence, they know they need a website but they don't often think about the email list as a primary way that they connect. People don't always go to your website, for example, but they do always go to their inbox. If you're leading with value, as I like to say, then you're visiting them and having the opportunity for multiple touches. And that really is one of the main reasons that email is the #1 marketing tool. You get to go back again and again as long as you build a relationship, lead with value, and give some meaning for you to be there.
Seth Godin defines "permission marketing as the privilege (not the right) to deliver anticipated, personal and relevant messages to people who actually want to get them"
So how do you do that? How do you deliver email messages that people actually want to read? Well, the first thing is the #1 principle, keep it simple! The biggest and most common mistake that I see is complicated, convoluted, long newsletter-style emails. That's not really something that has much appeal. But a personal meaningful message that really is designed to give your most important followers the value that they're looking for, on message with the way that you contribute, that is something valuable.
How do you get them to understand that? It actually starts with the subject line. At last year's Crafts + Commerce, the Convertkit conference – that I'll be going to again this June – I heard Karen X talk about viral videos. She emphasized that it all starts with the headline. So when you're doing videos and you want people to find them, the subject matter actually begins with the title. And with an email, equally important if not more so is your subject line. Because obviously if people don't open the email then it doesn't matter how good it is and how much valuable content it is. That subject line is how you let people know the value that you're trying to deliver.
What is the fundamental game-changer? Being intimate and personal, rather than the more conventional approach to digital marketing – a shotgun blasted out, see what comes back. You really want to make an intimate personal connection rather than some kind of manipulative selling.
Keep it simple, keep it focused. It doesn't have to be glitzy. Definitely don't make too many notes, too long, or too complicated. But keep it valuable and let people know with the subject line how you are going to help them. That simplicity of focus on being valuable and being of service is what will keep people engaged with you and deliver the holy grail of building relationships, online meaningful, authentic, sustainable relationships with what you're doing online and email is your best channel to do that because it has that conversational recurring basis.
One final tip: A lot of people tell me that they're worried about a weekly frequency, that people will turn them off. Well, if you're being valuable on a consistent weekly basis, that actually is the real secret sauce of building relationships and keeping it going. The unsubscribers, don't worry about them. They're not your people. The people who engage and read on a regular basis and appreciate what you're doing, that's the real gold.
That's video mojo for this week. Thank you so much for your kind attention.
I look forward to your feedback questions and suggestions and I'll see you next time!

Get Yours: Free PDF, 6 Recommended Digital Marketing Apps
This PDF has Jon Leland's recommendations for his six favorite digital marketing apps in one easy-to-read, one-page reference doc. Get yours now.
To watch the video webinar where Jon Leland explains these recommendations, click here.
https://www.combridges.com/wp-content/uploads/2020/03/Email-Is-Your-_1-Marketing-Tool-640-x-300.png
300
640
JonLeland
https://www.combridges.com/wp-content/uploads/2017/06/ComBridges-Logo-300x60-300x60.jpg
JonLeland
2020-03-20 01:26:08
2020-03-20 01:28:58
Go Beyond Best Practices: Email Is Your #1 Marketing Tool (but not the way you think)