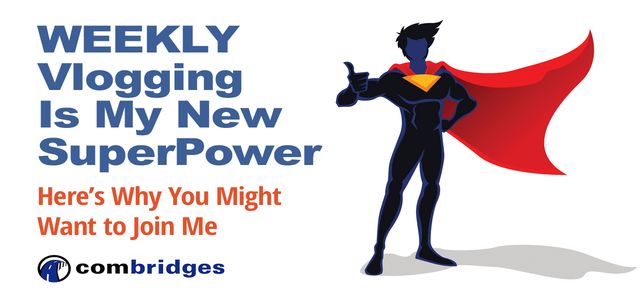 Watch to Learn Why WEEKLY Vlogging Is My New SuperPower + Why You Might Want to Join Me.
In just the last two months, video blogging or vlogging has changed my life and my business; and this breakthrough has led me to think of these weekly video posts as a new kind of "SuperPower."
As a digital marketing strategist, when I finally found the discipline to "eat my own cooking" and do videos every week, I knew it would be a positive step; but honestly, the results have exceeded these expectations.
Check out this video, won't you?
In this week's video, I not only share how this practice is working for me, I unpack why any kind of regular blogging or vlogging is so powerful.
To make this point clear, I call on a quintessential video clip from Seth Godin and Tom Peters that I've used for years in my social media marketing workshops.
I also unveil the essence of a new video marketing offer that may help you get over the "hump" to do a weekly vlog yourself, including our system for social media video distribution. The truth is that it was separating the video production from the distribution that made this breakthrough possible!
Links and Videos for Resources Mentioned in this Week's Edition:
Thanks for watching! I look forward to your feedback.
Edited Video Transcript:
WEEKLY Vlogging Is My New SuperPower. Here's Why You Might Want to Join Me.
Hi there, my name is Jon Leland and I'm a digital marketing strategist. And this is episode #8 of my video blog or Vlog Series about digital marketing and in particular about video marketing. I want to talk to you today about vlogging or video blogging and how dramatically it has changed my life and I think potentially even changed my business.
The Power of Blogging
So, let me explain. First of all, blogging and vlogging are really, really valuable practices, and I've been wanting to do a weekly Vlog for years. And, finally, I have gotten myself over the hump and I have started doing it. Like I said, for eight weeks in a row now. And I want to share with you today about the ways that has changed my life and my business.
I've known from blogging the way that doing a regular practice, about getting my voice out there and how that changes things. Intuitively, I knew that vlogging was going to do that as well, but it really has done that and much more.
I will post a video (link above) with Tom Peters and Seth Godin talking about blogging and they talk about how it really doesn't even matter if anybody is reading it or in the case of a vlog if anybody is watching,
"Blogging is free, it doesn't matter if anyone reads it. What matters is the humility that comes from writing it. What matters is the metacognition of thinking about what you're going to say. How do you explain yourself to the few employees or your cat or whoever is going to look at it? How do you force yourself to describe that in three paragraphs? Why you did something? How do you respond out loud?"

Seth Godin
Because what happens is in the weekly practice of putting yourself out there, saying something that you intend to be useful and where you're really trying to deliver some value doing that week after week really shifts something inside you. You're able to go deeper, you're able to discover more about what the value is that you want to share and that you want to communicate with other people.
"I will simply say, my first post was in August of 2004. No single thing in the last 15 years professionally has been more important to my life than blogging."

Tom Peters
So, your voice emerges and also your putting yourself out there with it. I know it's going to sound very California, but as I experience it, there is an energy shift that happens by putting yourself out there in that way.
Weekly Makes All the Difference
The other thing is the fact that I'm doing it weekly. This makes it a practice and gives it this ongoing continuity, such as when you want to learn to play golf or learn to play the piano, whatever. It's a practice and going to the gym is another really good example. It takes time to build up "the muscle" and when you do it weekly, it has this power. I've talked in other videos about "The Power of Consistency".
So, when you do it weekly you build up that consistency and you begin to develop "the muscle" and just like going to the gym when you start doing it for awhile week after week, day after day it starts to feel good.
And I'm proud to be telling you that I've made this commitment, I'm doing it every week and it's feeling good to me. It's also getting me out there. I believe it's making me more attractive and the last point that I want to make is the way it shifted my business.
In the coming weeks, I'm going to be making an offer to help people get over the hump to do this. My offer will help them create their first three videos as part of a package and then take advantage of the distribution system that I've built and how I'm getting these videos out.
Separating Production from Distribution Made This Possible
This reminds me of Derek Sivers, who founded CD Baby way back in the early days of the Internet. He invented CD Baby because he was a musician and he needed and wanted to sell CD's. E-commerce hadn't really been invented yet. He helped invent it and suddenly all these other musicians came to him and wanted help getting their CD's out.
Well, I needed video distribution because I wanted to do video blogs and I wanted to get it out. What helped me get over the hump was I separated the tasks for doing this out, separating video production from distribution. I now have a virtual assistant who's helping me with the distribution. In fact, we've designed a whole system where these videos are not only on YouTube, they are also native on Facebook, native on LinkedIn, native on Instagram TV and all have the subtitles and meta information… wherever you happen to be watching it.
So video blogging really is a practice worth developing. I hope you can get over the hump and, if you'd like, I can help you do it,.
However it works for you, and, let's talk if you want help from me. Let me know because we have a system that can help you distribute and "watch this space" for the offer in coming weeks.
As always, thanks again for your kind attention, I really appreciate it. See you next week!
Get Yours: Free PDF, 6 Recommended Digital Marketing Apps
This PDF has Jon Leland's recommendations for his six favorite digital marketing apps in one easy-to-read, one-page reference doc. Get yours now.
To watch the video webinar where Jon Leland explains these recommendations, click here.
https://www.combridges.com/wp-content/uploads/2019/09/SuperPower.png
300
640
JonLeland
https://www.combridges.com/wp-content/uploads/2017/06/ComBridges-Logo-300x60-300x60.jpg
JonLeland
2019-09-19 15:30:14
2019-09-26 00:11:54
Watch to Learn Why WEEKLY Vlogging Is My New SuperPower + Why You Might Want to Join Me.