I recently had the privilege of presenting on a panel about taking blogs to the next level at the American Society of Journalists and Authors (ASJA) conference in NYC. Once again, I spoke about why video is a 'must have,' while also suggesting that bloggers be sure to activate "Email Engagement" via a Feedburner.com email subscription form, and activate "Twittitorial" via a Paper.li virtual daily e-newspaper.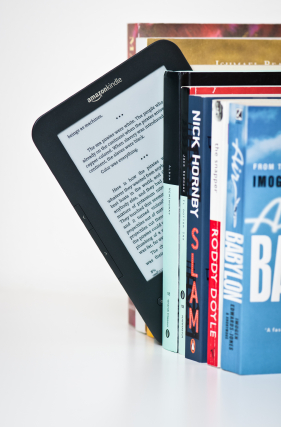 While these were some of the tips and tricks that I offered, I was most inspired by the panel on ebook publishing that I attended. As most of you know, I've got a number of ebooks in various forms of development. My research on self-publishing is fast leading me to the conclusion that: publishing these books as ebooks is not only much more cost effective, but given the trajectory—OK, the explosion—of the ebook market,  it could be far more lucrative than print publishing as well. (For one example of statistics on this boom, see the TechCrunch post: That Was Fast: Amazon's Kindle Ebook Sales Surpass Print.)
Amongst some other excellent ASJA presenters (including the inspiring and polished, Sam Horn who will be appearing soon at NewMarU), I was particularly uplifted to learn more about the Smashwords platform (affiliate link.) Smashwords founder, Mark Coker positioned his service as the small business publisher's best friend. It pretty much does everything you need, except format and submit your ebook for the Amazon Kindle. Its services include ebook conversions as well as sales for Apple's iBooks store, the Nook and others.
I had been thinking that given the relative ease of using Amazon's CreateSpace.com to publish my ebooks on the world's largest ebook platform that that might be as much as I could "chew."  Now, given that I'm a fan of the Kindle app on my iPad and use it often, I'm thinking that the most effective road map that offers the widest possible distribution for the least amount of effort is to use CreateSpace for Kindle and Smashwords for everything else. But I'm still researching and learning.
Anyone have any reasons why this is not the best approach? I'd love your input.
https://www.combridges.com/wp-content/uploads/2017/06/ComBridges-Logo-300x60-300x60.jpg
0
0
JonLeland
https://www.combridges.com/wp-content/uploads/2017/06/ComBridges-Logo-300x60-300x60.jpg
JonLeland
2011-05-23 20:33:16
2011-05-23 20:33:16
Ebook Publishing | Searching for a Road Map at ASJA in NYC