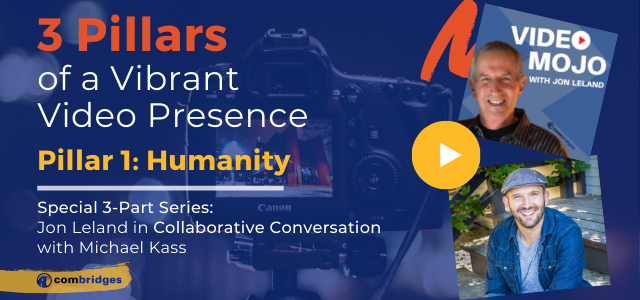 How Your Humanity Can Build a Vibrant Video Presence: Vlog Series with Michael Kass
I'm totally psyched to share a new kind of Video Mojo episode!
Although it's rarely discussed, "video presence" is a very real thing and worth cultivating. This collaborative conversation with the amazing Michael Kass not only models of what video presence means, but it also includes wonderful "special guest appearances" from the inspirational author and speaker, Lynne Twist, and master coach and author, Andrea J. Lee.
If you aspire to make the most of online video including posting videos to social media networks like Instagram, Facebook, and TikTok, this episode may be especially important to you.
About Video Mojo​
​Video Mojo is a video blog and podcast hosted by award-winning media innovator, Jon Leland. It combines timeless marketing principles with a playful exploration of the "bleeding edge" of digital video & social media.
Resource Links from this episode:
​I'd love to hear from you. Your feedback, suggestions, likes, and reviews on YouTube, Apple Podcasts, or wherever are HUGELY valuable:
* Podcast Home: https://anchor.fm/video-mojo
* Instagram: https://www.instagram.com/joncombridges/
* Twitter: https://twitter.com/joncombridges​
​* YouTube Channel: https://www.youtube.com/jonleland​/​
Thank you!
Get Yours: Free PDF, 6 Recommended Digital Marketing Apps
This PDF has Jon Leland's recommendations for his six favorite digital marketing apps in one easy-to-read, one-page reference doc. Get yours now.
To watch the video webinar where Jon Leland explains these recommendations, click here.
https://www.combridges.com/wp-content/uploads/2020/06/Pillar-1_-Humanity-640-x-300.png
300
640
JonLeland
https://www.combridges.com/wp-content/uploads/2017/06/ComBridges-Logo-300x60-300x60.jpg
JonLeland
2020-06-02 02:22:20
2020-08-06 02:23:44
How Your Humanity Can Build a Vibrant Video Presence: Vlog Series with Michael Kass