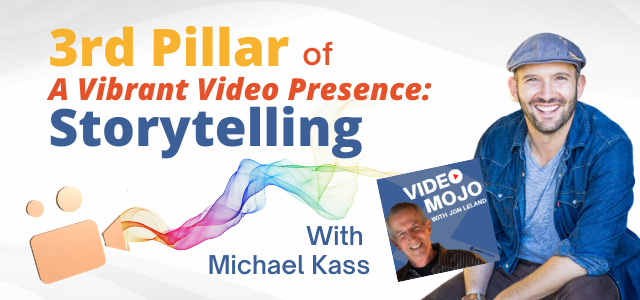 Storytelling as Wayfinding During Uncharted Times: New Video Mojo with Michael Kass
I admit it. I'm proud of the quality of content that's coming out weekly via my Video Mojo WebShow™. It's now much more than a video blog & podcast: It's a fully-produced live, weekly webcast & formatted 1/2-hour program with awesome guests.
This week's episode, recorded live last Friday, powerfully illuminates why storytelling is so much more than a "buzzword du jour." If you understand the power of story, you can create a more engaging and vibrant social media and video presence.
To do that, you have to go beyond storytelling as a formula. Done well, story can open doors to whole other levels of engagement. And, it can help you find your way through the "uncharted times" that we are all living through, while revealing a path to more meaningful media.
If you're ready to use story as a wayfinding tool (or at least ready to discover what that means), don't miss this third "Collaborative Conversation" between myself and storytelling expert, Michael Kass.
In addition this "Collaborative Conversation," every Video Mojo episode includes a quick commentary called "Tee It Up" and "Luscious Links" resource recommendations, as shown below.
Video Mojo welcomes your questions and comments in real time during Video Mojo LIVE! which streams every Friday at 10am PT / 1pm ET on our YouTube channel:
​https://www.youtube.com/jonleland and via our Facebook Page: https://www.facebook.com/combridges.fb/live​. Please join us.
IN LAST WEEK'S EPISODE
Time markers/Table of contents:
Tee It Up: Wayfinding vs the Perfectionism Trap – 1:58
Collaborative Conversation: Michael Kass (Coach) – 3:11
Community Campfire: Q&A – 14:11
Luscious Links: The Biggest Bluff – 23:31
RESOURCE LINK:​
Michael Kass: https://www.storyandspirit.org/​
LUSCIOUS LINKS​
3 PILLARS OF A VIBRANT VIDEO PRESENCE
Please join us and/or post a review or comment. It REALLY helps Video Mojo to be more visible when you like, review, or comment. All of the links are here:
​https://play.combridges.com/links​
Thanks!
Get Yours: Free PDF, 6 Recommended Digital Marketing Apps
This PDF has Jon Leland's recommendations for his six favorite digital marketing apps in one easy-to-read, one-page reference doc. Get yours now.
To watch the video webinar where Jon Leland explains these recommendations, click here.
https://www.combridges.com/wp-content/uploads/2020/10/ComBridges-Blog-3-1.png
300
640
JonLeland
https://www.combridges.com/wp-content/uploads/2017/06/ComBridges-Logo-300x60-300x60.jpg
JonLeland
2020-10-21 18:31:43
2020-10-21 18:31:46
Storytelling as Wayfinding During Uncharted Times: New Video Mojo with Michael Kass