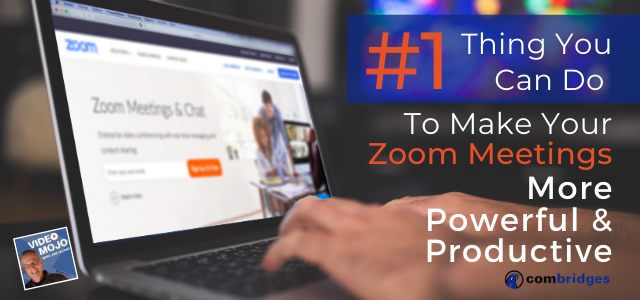 Zoom Meetings: Learn the #1 Thing That Can Make Your Virtual Gatherings More Powerful & Productive
In the age of coronavirus, Zoom Meetings have become an essential way for groups to connect; but making these virtual gatherings powerful and productive is not so easy. Many people are still learning what it takes to be present without causing distractions. In other words, for groups larger than a half dozen, technical facilitation is required. In fact, having a dedicated technical support person to guide everyone in how to participate without detracting from the group's energy can make a huge difference. Please watch the video below to learn more.
About Video Mojo
Video Mojo is a video blog and podcast hosted by award-winning media innovator, Jon Leland of ComBridges. It combines timeless marketing principles with a playful exploration of the "bleeding edge" of digital video & social media.
Resource Links from this episode:
I'd love to hear what works for you and if you find this program useful. If you've got questions, feedback or suggestions, please comment below, or let's connect (and leave us a review on Apple Podcasts or wherever):
VIDEO TRANSCRIPT:
Zoom Meetings: Learn the #1 Thing That Can Make Your Virtual Gatherings More Powerful & Productive
Hi and welcome to Video Mojo.
My name is Jon Leland and Video Mojo is a combination of timeless marketing principles and a playful exploration of the bleeding edge of social media and digital video.
Today we're talking about digital video and the number one thing that you can do to make your Zoom meetings more powerful and productive.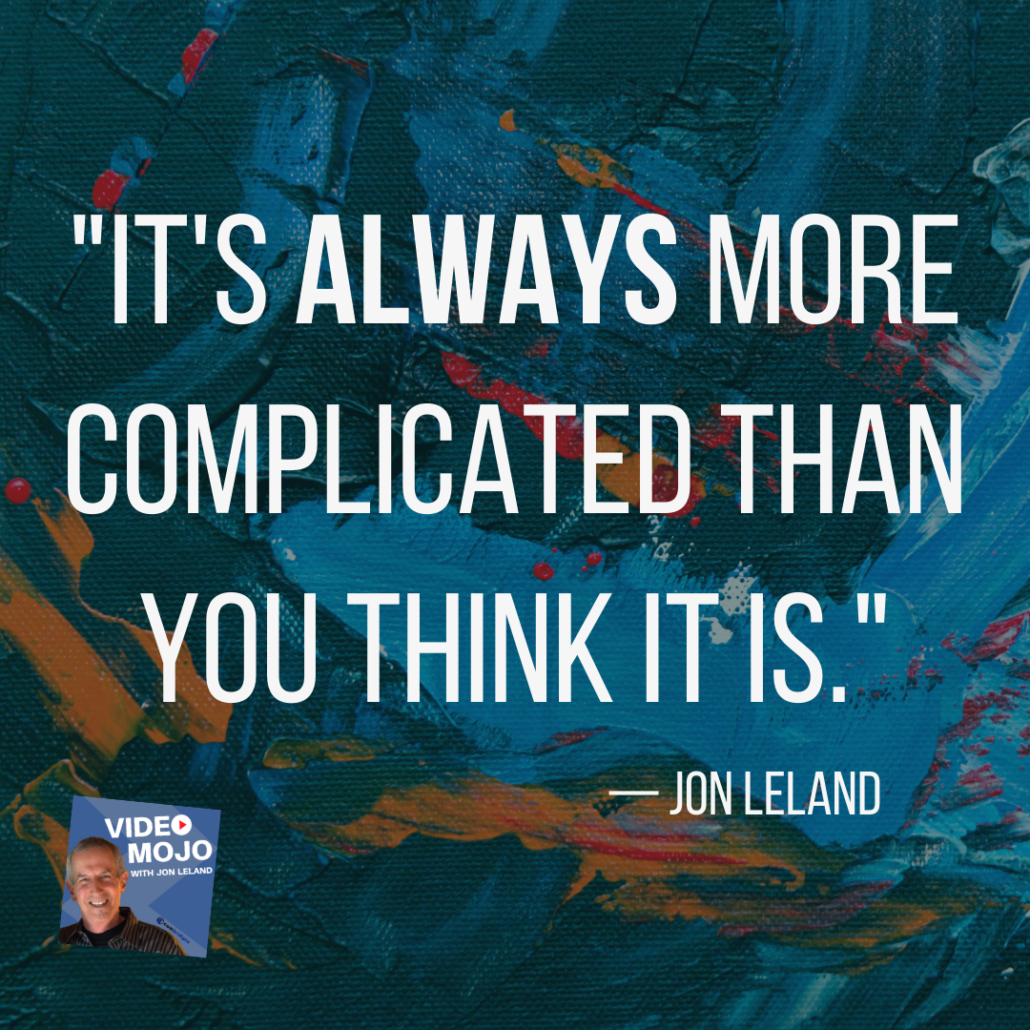 You know, as I've been talking about digital video literally for decades. One of the original concepts that came to me was something I call the media proverb which is,
"It's always more complicated than you think it is."
Just because everybody is doing Zoom meetings now doesn't mean that we're doing them right. In fact, we're seeing so many issues that even Saturday Night Live chose to make fun of all the ways that people do Zoom meetings wrong.
In this world that we have now where connecting via video has become so much more important, I think it's really valuable to be conscious about the way we create a container for communities and get-togethers. To be clear, I'm not talking about two or three or even four or five people having a social gathering on Zoom. I'm talking about meetings where there can be 30 to 50 people and more.
Brene Brown offered some emotionally intelligent ideas that she uses with her Zoom meetings of 30 people on her team in order to get people into a more conscious space and to allow for all the intensity of emotions that are going on these days.
https://www.inc.com/betsy-mikel/how-brene-brown-runs-emotionally-intelligent-zoom-meetings.html
What's clear is that we're moving into a new world. So these kinds of online meetings and virtual connections, particularly the bigger ones where you're talking about dozens or even hundreds of people, become more and more important. We want to create the container in a safe way, we want to create it in a conscious way, and we don't want all of these distractions.
So the thing that I think is missing actually harks back to all the conversations about digital video, just because one person can run a whole meeting doesn't mean that they should. I've been facilitating webinars for a client and we have two people managing the technology backend, making sure that things run in a smooth and professional way. In smaller meetings, such as meetings I have recently attended with 30 to 50 people, just having one person dedicated to managing the technology and giving people guidance and support makes a huge difference. If you don't have that then you will have all these rough edges and distractions. People don't understand that they really have to take responsibility for their audio and mute and unmute appropriately. I think having a technological project manager is the number one thing that we should to have to in order to have foundation and support in your large scale Zoom meetings.​ And when we conduct Zoom meetings in a professional way then they become a more solid, more productive container, and as a result generates a more powerful community..
I really want to encourage anyone that's doing anything more than just a casual or small meeting with less than a half a dozen people, make sure that you have someone holding the space technologically, giving people coaching, providing real-time tech support, so that everybody can be on the same page and understand kind of the technological etiquette of making sure you muted or unmute and knowing where those controls are.
Knowing how the chat works so that if you want to chat to the whole group, you chat to the whole group. If you want to chat to an individual, you do it that way. Little things like that make a difference and help us build a stronger community through more productive and powerful Zoom meetings.
Please let me know what else you want to know about Zoom, about digital video and online. I'm here to help and thank you again as always for your kind attention. I look forward to seeing you next time.
Get Yours: Free PDF, 6 Recommended Digital Marketing Apps
This PDF has Jon Leland's recommendations for his six favorite digital marketing apps in one easy-to-read, one-page reference doc. Get yours now.
To watch the video webinar where Jon Leland explains these recommendations, click here.
https://www.combridges.com/wp-content/uploads/2020/04/Zoom-Meetings_-640-x-300.png
300
640
JonLeland
https://www.combridges.com/wp-content/uploads/2017/06/ComBridges-Logo-300x60-300x60.jpg
JonLeland
2020-04-24 18:17:58
2020-04-24 18:20:52
Zoom Meetings: Learn the #1 Thing That Can Make Your Virtual Gatherings More Powerful & Productive