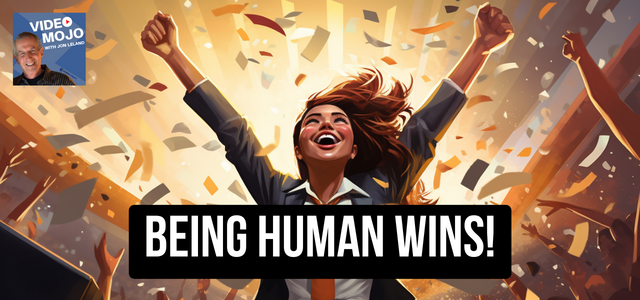 The Secret to Authentic Video Marketing Success: Why Being Human Wins.
In this episode of Video Mojo, I talk to Ethan Beute, Chief Evangelist for the video messaging app, BombBomb, and author of the Wall Street Journal bestseller "Human-Centered Communication." Ethan shares his insights on how authenticity and human connection transform video marketing in the digital age.
Ethan sheds light on the power of video in adding "intent data" that's missing in traditional digital channels – things like facial expressions, tone, and body language – to bridge communication gaps and build trust.
Discussing the challenges and fears associated with video communication, we also explore the concept of vulnerability as an unexpected catalyst for company growth. Ethan emphasizes that authenticity trumps entertainment, especially when using video.
This conversation also touches on the possible future of AI-generated messages, and we wrap up with a nod to the effectiveness of video in enhancing social reciprocity, and Ethan's insights into why this leads to stronger conversion rates.
Watch to gain valuable tips on using AI and video communication for improving your content marketing by building more engaged human connections. To me, that's the meaning of authentic video marketing success.
Time stamps:
2:07 – Clearer communication, human connection, and higher conversion rates.
5:07 -Why transcripts lack warmth and important non-verbal cues.
10:21 – Short social video clips can provide valuable moments for additional learning & full-length video podcast episodes on YouTube are competitive with Spotify and Apple podcasts.
13:29 – AI faking personal connections raises concerns.
16:23 – Using AI for video editing. Researching AI apps for clip extraction. Enhancing with Descript editing app.
18:36 – Practicing video messaging helps overcome fear.
22:18 – Digital marketing requires video for better communication.
📕 Access Ethan's book for free at https://bombbomb.com/freebook.
🤗 Please like, share, and subscribe wherever you get your podcasts. It really helps!
✅ Subscribe to my email blasts & get other free stuff.
➡️ Apps that I use & personally recommend (affiliate links):
📧 ConvertKit for email marketing.
🎥 Descript for video editing.
⏺ Riverside for virtual video interview recording.
https://www.combridges.com/wp-content/uploads/2023/07/VM-59-thumbnail-640-×-300-px.png
300
640
JonLeland
https://www.combridges.com/wp-content/uploads/2017/06/ComBridges-Logo-300x60-300x60.jpg
JonLeland
2023-07-07 17:59:05
2023-07-07 17:59:06
The Secret to Authentic Video Marketing Success: Why Being Human Wins.