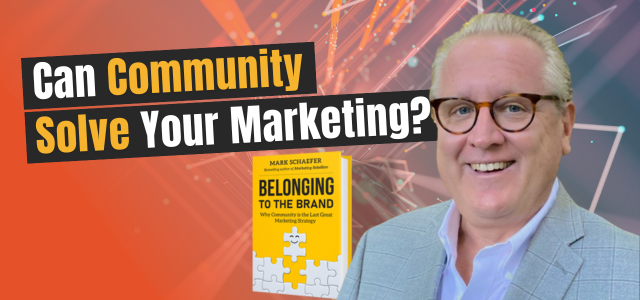 Can Community Solve Your Marketing Problems? Video Mojo Interview with Mark Schaefer
I recently had the pleasure of interviewing author, educator, speaker, and authentic thought-leader, Mark Schaefer about his new book, Belonging to the Brand, Why Community is the Last Great Marketing Strategy.
I think Mark's work is important in today's fast-paced, ever-changing marketing landscape. As we all know, it's becoming increasingly difficult for marketers to stay relevant and create authentic engagement.
Here are my favorite two minutes of our conversation:
We discuss why community represents a future-proof strategy for businesses struggling to navigate this challenging time. Schaefer sheds light on the famous Peter Drucker axiom, "Culture eats strategy for breakfast," and explains how fostering a strong sense of community can lead to better engagement and long-term customer loyalty.
Whether you're a business marketing executive or just someone looking to improve your marketing game, this conversation is packed with valuable insights and actionable tips you can apply to your own strategies.
You can watch the whole video conversation below or listen on Spotify, Apple Podcasts, or your favorite podcast app.
For additional resources and to learn more about Mark Schaefer and his work, visit https://businessesgrow.com/.
https://www.combridges.com/wp-content/uploads/2023/04/Mark-Schaefer-640-×-300-px.png
300
640
JonLeland
https://www.combridges.com/wp-content/uploads/2017/06/ComBridges-Logo-300x60-300x60.jpg
JonLeland
2023-04-13 22:46:54
2023-04-13 22:46:55
Can Community Solve Your Marketing Problems? Video Mojo Interview with Mark Schaefer